The Boston Organics website offers customers the tools to effectively manage deliveries and easily access information about previous orders. While many customers have become super users of the website, we wanted to highlight the most important features to leverage on our website so you can make the most of your Boston Organics deliveries.
Adjust your Preferences

Have you noticed that kiwis or peaches are the last pieces to be eaten from the breakroom fruit bowl? Turn to your account's Produce Preferences to adjust the contents of your weekly delivery. Actively maintaining your preferences means that you will only receive produce you wish to receive and will effectively avoid food waste.
To update your preferences, log in to your account, and select Produce Preferences from the tiles that appear.

Once there you can peruse the various categories for both fruit and vegetables, rating as you desire. Please note that Preferences do not apply to the Local (formerly Dogma) Box. You will see a key at the top of the page. Neutral is the default choice, meaning you're happy to have the item when it comes in your box. If you rate an item with Like or Love, you may end up with more than one of that item in your box, so choose wisely! Neutral is the safest bet unless you know you can't get enough of something.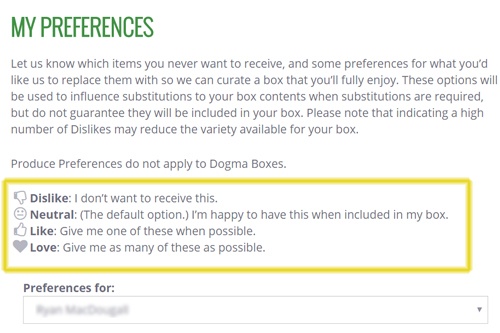 Most customers will just have one option in the Preferences for drop-down. However, if you have more than one subscription on your account, keep in mind you can set preferences for each subscription independently. Make sure you've selected the right one before proceeding!
Browse the produce categories and select the appropriate ranking for the items you do or do not wish to receive. Click the category heading to expand the list and view individual items. While this system does not guarantee an item rated with Like or Love will end up in your box it does help us make favorable substitutions when necessary.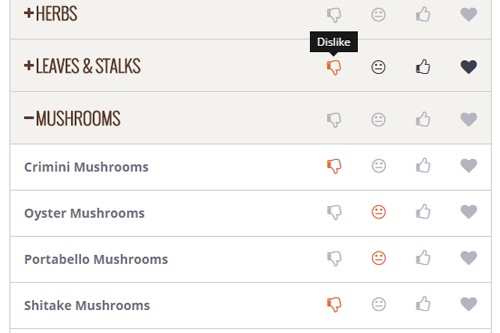 PREVIEW NEXT WEEK'S BOX CONTENTS
Curious about what's coming in next week's box? You can preview next week's box by navigating to This Week's Box. Check the box beside "Upcoming box contents" beneath the date range at the top of the page. Please note that these box contents do not reflect your produce preferences.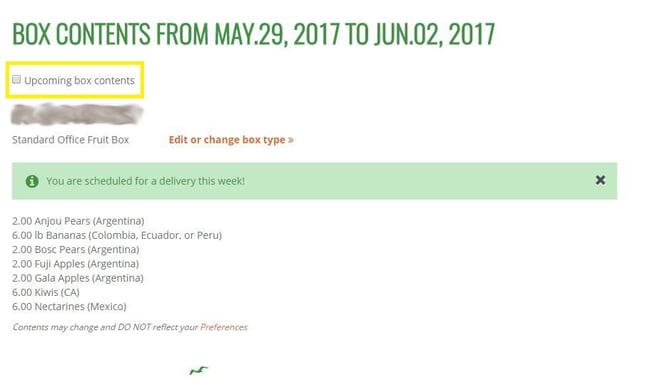 View a Previous delivery
We are always happy to share a copy of a receipt or invoice if one has gone missing. You can also view previous charges and box contents by navigating to the Delivery Schedule/History page of your account. Using the "Show Deliveries From" fields at the top of the page, extend the date range to include the dates you wish to see. To see the order total, box contents, and any credits or discounts for a particular delivery, click on the View icon beside the date of interest.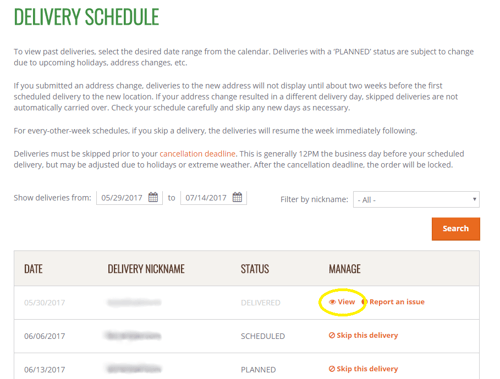 On the next screen, any items that have been substituted out (items that you dislike, for example) will be marked in red, while substitutes will be green.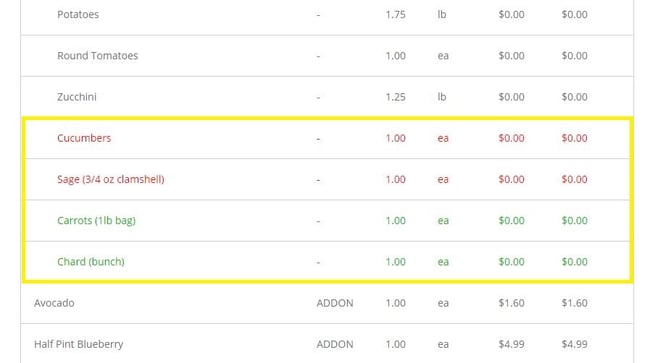 The key at the bottom of the page outlines the significance of different colored text. Any discounts or credits for previous order issues will be listed above the delivery subtotal.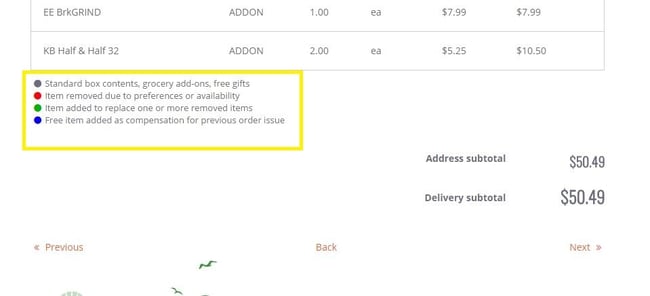 Skip an Add-On
Staff tastes may shift from week to week or with the seasons. You can easily manage your add-on snacks by logging in to your account and navigating to your Subscriptions page (available on the drop down menu in the top right hand corner). To adjust the quantity or frequency of an add-on, click Edit. In the window that opens, make the desired adjustments, then click Save Changes. To eliminate an add-on from your order entirely, click Remove.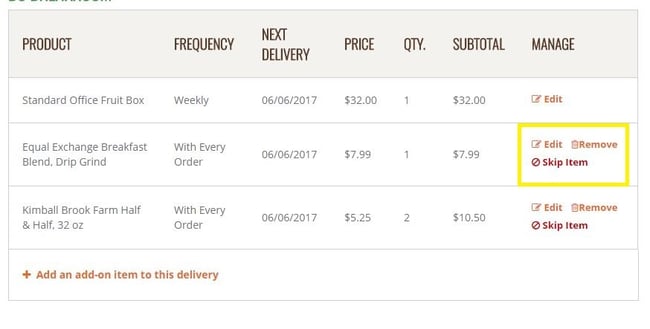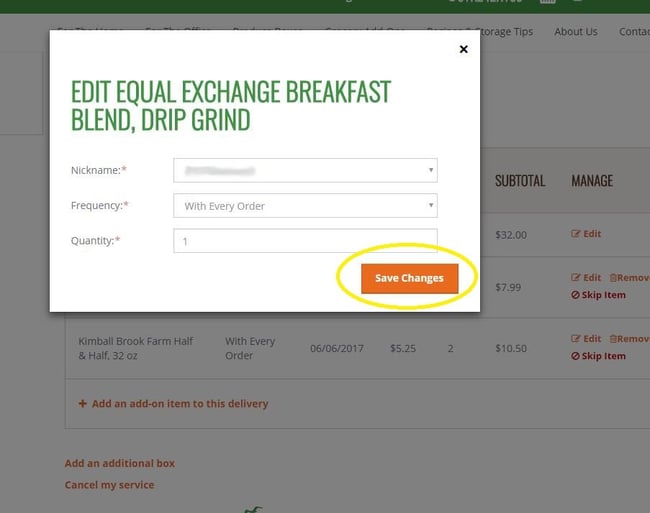 If you have a backlog of a particular item and just wish to postpone it for one delivery, click Skip Item. The add-on will automatically be scheduled to arrive in your next order.
When making add-on changes, please be mindful of our ordering deadlines. Changes to add-on orders, with the exception of milk and bread, must be submitted by noon the business day before your next scheduled delivery. Monday account changes must be submitted by noon the prior Friday. Please click here for more information about account deadlines.
Update Your billing information
If you need to update your billing information for any reason, you may do so through your account at bostonorganics.com. Log in and select Update Your BIlling Information from the drop down menu in the top right hand corner. Click Change Payment Method. To enter a new card, click Add Payment Method, then enter your card number. Back on the Billing Information screen, click Save.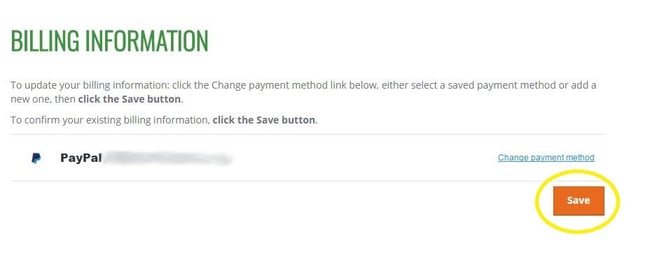 If you have any questions about billing options, please be in touch with us at service@bostonorganics.com.
Change the contact for your account
We want to be sure you are kept up to speed on what's happening at Boston Organics, and ask that you keep the contact information on your account up to date. We send schedule changes, add-on updates, billing questions and important news items to the main email on the account.
To make changes, navigate to Account Settings. There, you can change the name and email address associated with the account. You can also update the password on this page.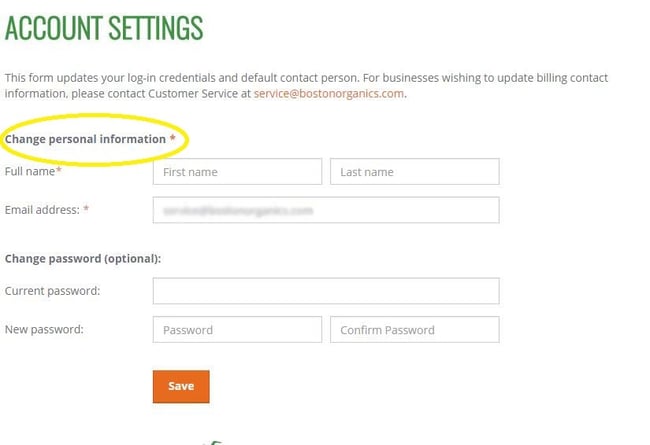 If you need to update a phone number, click on Delivery Addresses from the drop down menu under your name. At the bottom of the page, click the Update address instructions button. Change the phone number and click Confirm and Proceed.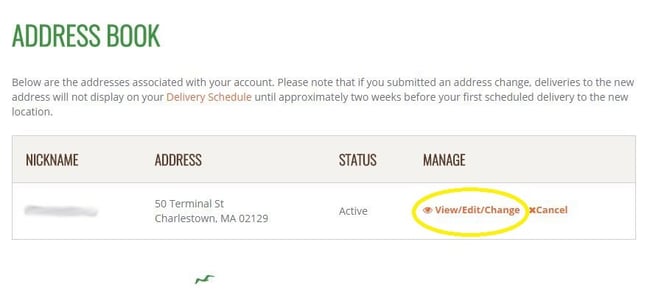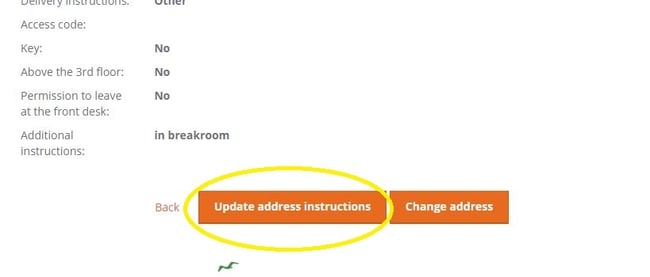 If you have any questions about these features, please don't hesitate to reach out to us at service@bostonorganics.com.