Colin started out as a driver at Boston Organics in 2016, left for a while to take a position with Boston Public Schools, and then rejoined the team in the fall of 2017 as our new customer service manager. When he's not answering your produce-related emails, he can be found playing bass in his band or fly fishing. Learn more about Colin below!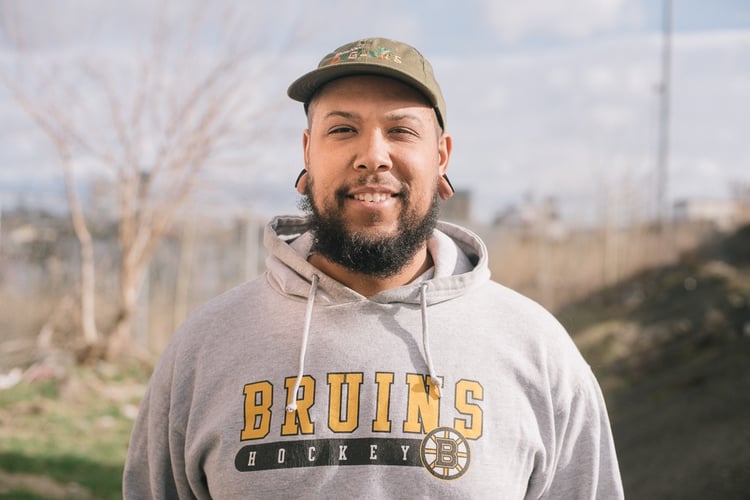 Hometown: West Hartford, CT
Favorite fruit and/or vegetable: Cara Cara Orange
Tell us about yourself.
After working in the non-profit sector for nine years, I was looking for a new challenge. Working for Boston Organics has provided me the opportunity to make lifestyle changes and get healthier. Outside of work, music is my passion. I attended the Berklee College of Music and currently play in a band called Long Time. I'm also an avid outdoorsman and enjoy fly fishing, canoe trips and camping. On the weekends I like to go vintage artifact hunting with my fiancé.
What did you do for Boston Public Schools?
I worked at Clarence Edwards Middle School providing academic support and behavioral intervention for students with Emotion Impairment. It was some of the most meaningful and fulfilling work I have ever done.
Do you listen to music at work?
Although a cliché answer, I listen to everything. Right now the artists in heavy rotation are Chris Stapleton, '68, MF Doom, Phoebe Bridgers, and Robert Glasper.
Do you like to cook?
No, but I love to eat! I'm not into the preparation side of things, but it is gratifying when it all comes together. My favorite is my fiancé's sweet potato black bean chili dish, which she would be upset if I divulged the recipe – but anyone can get creative with that one!