Eddie started as our newest bike delivery person in the winter of 2017-2018 after previously working for Boston Pedicab. Not surprisingly, he loves biking and, like many of his colleagues, he's a big music fan and plays in a band. Here's some more about Eddie.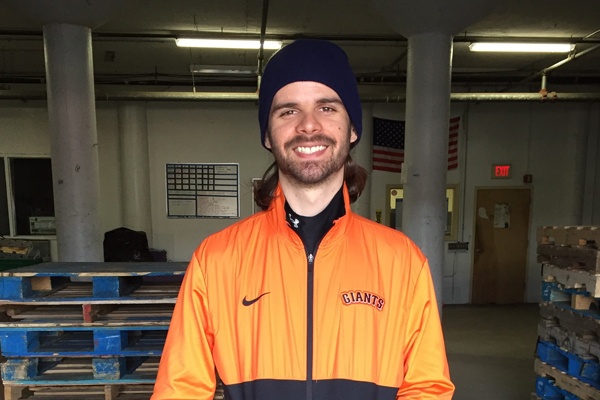 Hometown: Mill Valley, CA
Favorite fruit and/or vegetable: Japanese Sweet Potato
Tell us about yourself.
I grew up in the Bay Area and I used to ride my mountain bike a lot growing up. I moved to Boston for college and I get around town on my Redline road bike. Last summer a friend suggested I try riding a Pedicab. I would take people on tours. A lot people would hire me to bike them to Fenway for Red Sox games. I liked it. You get to spend your day outside. The hours could vary. The standard shift is from 5-11 p.m. But you never start earlier than noon.
Have you adjusted to the earlier schedule at Boston Organics?
For the most part I've done okay. The toughest is when I put in some hours in the warehouse, helping to pack boxes. Those days start at 7 a.m.
Tell us about your band.
I play drums for a rock band called The Drunk Monkeys. I met the singer at Northeastern, where I studied mechanical engineering. We played in a blues rock ensemble together. These days our band plays clubs around Boston. We played The Middle East once.
How did you hear about Boston Organics?
I went to indeed.com and typed in "bike."
Do you like to cook?
I like to cook. My favorite recipe right now is this sautéed sweet potato and spinach with balsamic and I put a fried egg on top.