Alicia R. has been a Boston Organics customer since 2016. Her son Wyatt also loves the deliveries!
Why did you sign up for boston organics?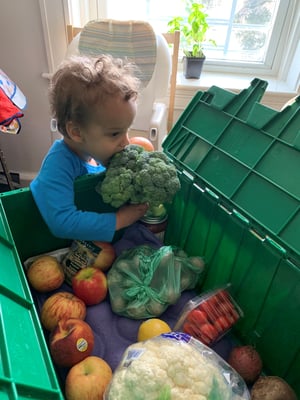 Boston Organics delivers local produce and other food products to your door with no/minimal packaging, and I wanted to support a local business that supports local farms and businesses.
How does Boston Organics impact your life?
B.O. has had an incredibly positive impact on my life- I eat more fresh produce, with minimal effort and minimal packaging. Couldn't be happier.
Boston Organics is hands down the best company in Boston. They're totally reliable, easy to order from, and flexible. They offer an invaluable service to residents and I can't thank them enough for doing what they do.
Alicia's favorite vegetables are beets and oranges. Clearly her son Wyatt (pictured) loves broccoli!
If you're a Boston Organics customer and would like to be featured in our blog, email Marketing@bostonorganics.com