Jess Lynch is the founder of Wishroute. Jess started her career in consulting at PwC but started Wishroute when she was at Babson College getting her MBA and realized we have a wish epidemic ‐ she kept hearing friends say they wish they were exercising or eating healthier and something clicked.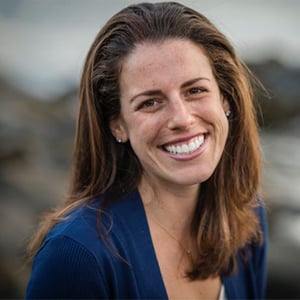 The Wishroute approach is inspired by Jess's family's experience with lifestyle change when her brother was diagnosed with juvenile diabetes. They started walking after dinner, sneaking veggies in smoothies and drinking water instead of juice, and she saw how incremental small changes added up. Jess believes it all comes down to having encouraging accountability, embracing the something is better than nothing mindset, and taking advantage of the resources that you already have around you.
"Boston Organics makes it easy and affordable to eat more fresh vegetables. I joined a few years ago when my husband and I were starting to prioritize local organic food and wanted the convenience of delivery! I love the ability to customize what's delivered each week... We love making sweet potatoes wedges on Sunday so we have a nice complement throughout the week to whatever we're having for dinner!" - Jess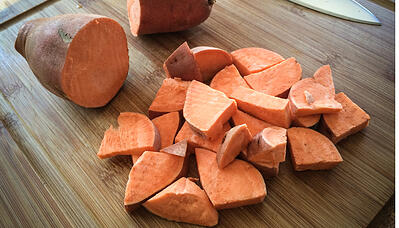 View more sweet potato recipes
Wishroute is a personal accountability service focused on healthy eating and exercise. The service is all through text message (not an app!) and real people on the Wishroute team are on the other side of the phone to help you stay motivated and on-track. As you follow through with your daily achievable goals, you earn surprise gifts in the mail! The best part? It's affordable and only $20/month for Boston Organic members! Maybe you need some extra accountability to meal prep with the groceries that are delivered? Wishroute's for you!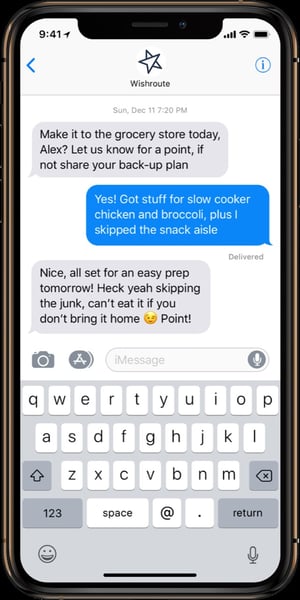 Wishroute is human powered, there are real people on the Wishroute team cheering you on and keeping you motivated.
Wishroute is:
Simple:

get 2 text messages a day instead of tracking everything in an app

Achievable: work on 1 habit at a time, focus on 1 goal a day
Encouraging: real people on the Wishroute team hold you accountable in a judgment-free and positive way!
Advice for someone who feels stuck with their bad habits
Start with one small change today. Taking action makes it easier to take more action! Find a small first step you can achieve today that will make you feel successful – when you feel successful it's easier to keep going and take on bigger changes! If you're stuck with exercise, fit in a 5 minute walk or 10 jumping jacks, squats and push-ups today. If you're eating too much sugar, what about having half of what you would normally have next time you reach for something?
"Life begins at the end of your comfort zone" - Neale Donald Walsch
What's next for Wishroute
Wishroute is launching in Boston and working on some big partnerships with other health and wellness companies and wants to help everyone move their lives forward in an encouraging and positive way. Follow Wishroute on Instagram.
---
Boston Organics members can sign up on Wishroute's website and use community code for a FREE week trial and 30% off their subscription - only $20/month!
Email Marketing@BostonOrganics.com to get the community code.