Maria Speck's cooking is bringing vibrancy to whole grains! Maria was raised by a Greek mother and German father, two cultures with rich grain traditions that go back centuries. She has been a Boston Organics' customer since 2018.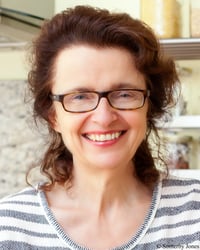 She wrote her second cook book, Simply Ancient Grains, and drew inspiration from her family background. Both the New York Times and the Washington Post named her first cookbook Ancient Grains for Modern Meals a top cookbook, and Cooking Light magazine included it as one of the 100 best cookbooks of the past 25 years.
"I always say I was very lucky because no one ever told me to eat "healthy" whole grains. Good grains were simply on the table—either as muesli and glorious whole grain breads in Germany, or as part of vegetable-rich meals with bulgur and summer salads with barley rusk in Greece. As a home cook and writer living in the US, I wanted to highlight the range of textures, flavors, and even colors that whole ancient grains can add to our plate."
Try one of Maria's recipes with your Boston Organics' produce! This crisp lemony salad with shallots, radishes, and farro will wake you up after this Boston winter!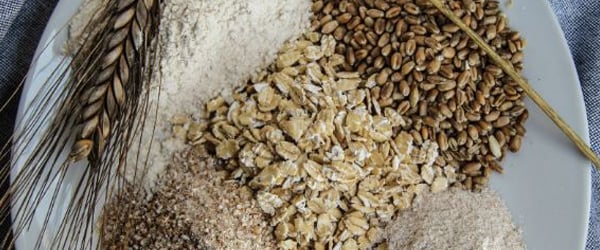 Maria learned to cook by trial and error. "A simple home-cooked meal will always make my day. If your ingredients are good, even a less-than-perfect meal beats takeout or fast food every time".
"My best cooking happens when there is little left in the fridge
or pantry as it forces me to become creative."
Some of Maria's recipes were created from the limited items in her fridge and pantry, including the Spaghetti with Lemony Parsnips and Olives in Simply Ancient Grains. This unusual combination is in the book because the fridge was bare after travel and a blizzard, and it turned out crazy-good.
Maria has been a Boston Organics customer since 2018. "I love that the content is always organic—not only because it typically tastes better but it also protects the land, and I want to support the farmers who go the extra-mile. I have found the freshness of greens like chard and collards exhilarating, and the fragrance of the mandarins and oranges superb. I was also excited to see New England-grown rolled oats and farro from the company Maine Grains". The convenience and quality can't be beat. I often found myself mumbling, "What took me so long to sign up?!"
Thank you Maria for your support and the great work you are doing helping people eat healthy!
What are your favorite things to cook? Comment below!
---
Veteran food writer and journalist Maria Speck is the author of Simply Ancient Grains and Ancient Grains for Modern Meals (both by Ten Speed Press). Her work has received multiple awards, including a Julia Child and an M.F.K. Fisher cookbook award. Raised in Germany and Greece, Maria has a lifelong passion for whole grains. She has contributed to Modernist Bread as well as to numerous publications in both the US and Germany, including The Washington Post,Gourmet, Eating Well, Saveur, and Gastronomica. www.MariaSpeck.com.
Reprinted with permission from Simply Ancient Grains by Maria Speck, copyright (c) 2015. Published by Ten Speed Press, a division of Penguin Random House, Inc. Photography (c) 2015 by Erin Kunkel.