To support sustainable food systems, eating organic is pretty much a slam dunk – right? By choosing organic foods, consumers can look forward to increased ecological biodiversity, healthier soil and water, and an absence of GMOs, synthetic pesticides and fertilizers.
But the lifespan and, as a result, the impact of our food doesn't stop there. Between the farms and our forks are vast systems responsible for the movement of fresh food all year round. And right in the midst is Boston Organics!
less packaging waste with our farmers
Aware that our impact as a company extends beyond our offerings, we are always considering ways that we can become even more sustainable. And we're fortunate to work with like-minded operations that strive to shrink their own footprint, such as Atlas Farms.
| | |
| --- | --- |
| | |
| Kitchen Garden's reusable totes | Atlas Farm's reusable totes |
Along with Red Fire Farm and Kitchen Garden Farm, Atlas ships their produce to us in reusable plastic bins rather than waxed cardboard boxes. And while different than what might be the norm of other farms, there are some distinct benefits.
"We've been using reusable plastic totes, in some form, for at least ten seasons," explains packinghouse manager Troy Asher. "They are great because they vastly reduce the amount of packaging waste in our shipping process…[we] have saved tens of thousands of boxes from the landfill by using our own totes."
Packing produce by these means comes with a number of benefits. Naturally, there's less of a need for boxes that, while compostable in large facilities, still end up landfills after their first use. And over time they can be cheaper. According to Troy, "[it] only takes 6 wax boxes to pay for the price of one reusable tote, which can last six to ten years…a large upfront investment, but they pay for themselves very quickly.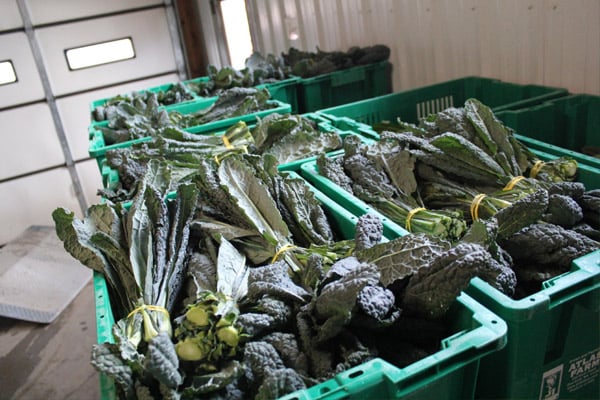 Sounds like a great alternative to us. But what's to stop others from adopting a similar strategy? "It's difficult for larger growers and distributors to switch to the RPC (reusable plastic container) model because of the logistics of retrieving them and then having to wash and sanitize."
Protecting high quality produce
Boston Organics crew knows all too well about the added logistics of reusable bins. The upfront costs and logistics that deter some large growers/distributors is not enough to scare Boston Organics away. At the end of the day, reusable bins reduce waste associated with packaging, decrease pressures on landfills, and reduce our carbon footprint.
And as for the produce itself – it's in good hands. From farm to Boston Organics to your doorstep, high quality organic produce is protected in durable bins.
While there are structural norms that might prevent some organizations from embracing a more sustainable future, individuals and businesses have found solutions! In this case, one needn't sacrifice logistical efficiency or high quality produce while reducing their footprint.
---
Boston Organics is committed to reducing our impact on the environment, and operating sustainably. If you have any feedback or suggestions, never hesitant to reach out to us at Service@BostonOrganics.com