Skipping breakfast or no time for lunch? Think again. It's something we all struggle with: how to find time to fit healthy meals into our busy days. Blog post written by Cynthia Conigliaro (certified personal trainer, and independent health and wellness coach).
We know that skipping breakfast or lunch has a whole host of negative health consequences, from causing you to eat more later in the day to actually impacting your physical make up and overall health. According to the American Heart Association, studies have found that people who eat breakfast have lower rates of heart disease, lower blood pressure and lower cholesterol than those who skip it. A recent study in the New England Journal of Nutrition found that skipping breakfast can lead to inflammation which is known to increase insulin sensitivity and that in turn can raise the risk of obesity and type 2 diabetes.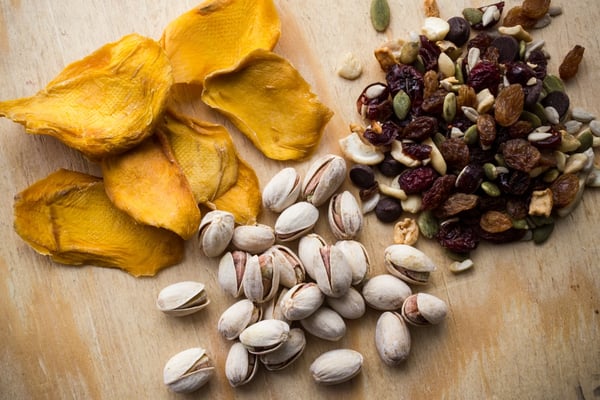 Nuts and dried fruit are nutrient dense and a great quick snack!
Skipping breakfast is also a bad idea if you're trying to maintain a healthy weight or lose weight. Our metabolism and blood sugar control are at more optimal levels earlier in the day than they are in the evening due to our circadian clock. As a result, weight- conscious people will find that it is better to eat more calories earlier in the day in order to avoid blood sugar spikes and overeating later to make up for missed food earlier in the day.
Like skipping breakfast, studies have found that skipping lunch is also not a good idea. Missing meals often leads to feeling sluggish, moody, and difficulty concentrating. Your brain is fueled by glucose which we get from food, particularly carbohydrate rich food and complex carbohydrates like fruits, vegetables and whole grains.
Skipping meals also has long term negative health effects. You may not get enough protein if meals are skipped and as a result bone and muscle growth may be negatively affected. Under-eating can compromise your immune system, leaving you more susceptible to colds.
Try to be aware of your body's hunger cues so you can try to avoid these blood sugar spikes. It takes some planning on your part but taking a quick mental note of when you ate last and when you will be eating again can help you to sneak in a quick healthy snack like a handful of almonds or some veggies and humus.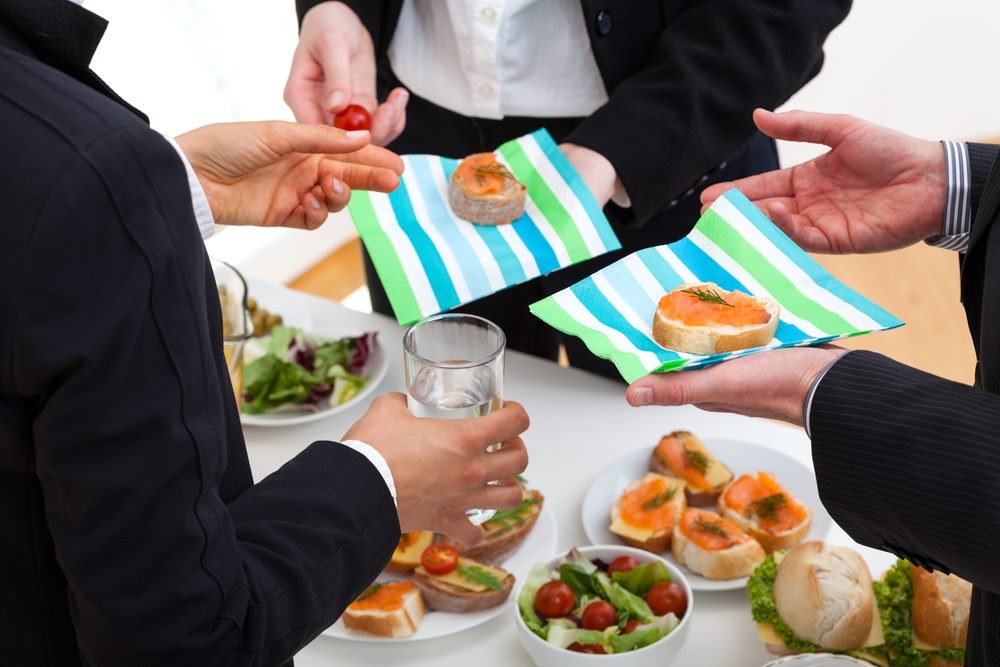 So, with our busy schedules and fast-paced world, how do we avoid skipping meals? While we are all busy and sometimes skipping meals is unavoidable...
Here are some tips for keeping you on a regular eating schedule:
Pack healthy snacks when you are on the go. Choose healthy snacks that won't cause blood sugar spikes that contain fat and protein to keep you feeling full and satisfied. Boston Organics offers a range of healthy grab-and-go snacks like our Organic Valley Mozzarella Stringles or our Maple Hill Creamery Organic Grass Fed Yogurt.
If your office gets regular deliveries of organic food from Boston Organics, check if your office is enrolled in our free Yearly Wellness Program. Employees can save 5% off every home delivery and will also save $10 off the first two home deliveries ($20 total savings value).
Prep meals over the weekend so you have already prepared healthy snacks and lunches. Boston Organics makes it easy for you to do this with their convenient delivery of organic and local produce to save you from making countless trips to shop for healthy food at the grocery store.
We've got you covered in the snack department with our Hippeas Vegan White Cheddar Puffs in our 8-piece afternoon snack kit or our Cascadian Farms Organic granola bars. Try our other delicious office snack favorites such as our Organic Everything Bagel Cashews!
Sometimes eating at your desk is a necessity in order to save time but if you can get out for a few minutes and enjoy your lunch, you'll return to work feeling more focused and revitalized. Another option is to hold a lunch meeting so you can be sure to get some healthy food in while at the same time you can accomplish some work with a colleague.
In addition to these tips for how to eat healthy in the office, don't forget to drink water throughout the day to avoid dehydration which can leave you feeling sluggish. People often mistake feeling thirsty for hunger and will reach for unhealthy food choices when in actuality, they are thirsty.