Tagine is a North African dish, named for the earthenware dish in which it is traditionally cooked. Usually made with chicken we've adapted the warm essences of that part of the world to highlight winter's root vegetables - flavors like mildly earthy turmeric, citrusy coriander, bright lemon, peppery ginger, fresh cilantro plus the sweetness of dried fruit. Variations abound in this dish! Use whatever roots you've got on hand other than beets, unless you like your food tinged pink. Choose from the dried fruits in your pantry. Add olives if you love them or toasted nuts. Make it substantial with boneless, skinless chicken thighs.
Recipe #2: Moroccan Tagine
INGREDIENTS
2 Tbsp vegetable oil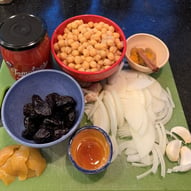 One good sized onion, thinly sliced
2" knob of ginger, peeled and finely grated
4 cloves of garlic, thinly sliced
2 tsp turmeric powder
1 large cinnamon stick
2 tsp coriander
Enough root vegetables for your number of people. For this recipe we used: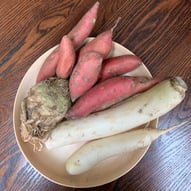 Two large daikon radishes

One celeriac

Six smallish sweet potato

Other options include potatoes, turnips, rutabagas, parsnips, squash
2 cups vegetable stock
I cup dried fruit - apricots, prunes or raisins are good here
2 cans chickpeas or equivalent of cooked from dried
1 jar Kitchen Garden Whole Peeled Tomatoes, chopped
1 preserved lemon, peel removed and finely sliced or one fresh lemon, peeled into strips
1 Tbsp honey
Salt & pepper to taste
1/2 cup olives, pitted and halved, can be green or black
Cilantro, chopped to finish,
Sliced Almond, toasted (optional)
Harissa, for added heat
Couscous or rice for serving
DIRECTIONS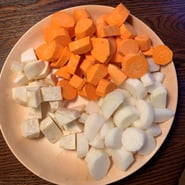 Peel and chop root vegetables into bite sized pieces.
Heat oil over medium high heat add onion and ginger and cook until fragrant, 2-3 minutes. Add garlic and dried spices cook about 30 seconds. Add root vegetables, stir frying until coated with oil and seasonings. Add vegetable stock as needed to cover vegetables. Allow mixture to simmer until vegetables are just tender. Add dried fruit, chickpeas, tomatoes, lemon, honey, olives, salt & pepper to taste and simmer gently until heated through.
Serve over couscous or rice, garnished generously with cilantro and toasted almonds if desired.
For meat lovers: boneless, skinless chicken thighs work really well here. For 4-6 people cut chicken thighs into cubes and brown quickly in oil as first step. Remove chicken and proceed with recipe. Add chicken pieces back in when root vegetables are added.