RECIPE #5 Pot pie
Pot pie is the ultimate winter comfort food, basically a simple stew dressed up with a topping. Great for making ahead, pretty enough for company and easy to whip up with whatever you've got on hand. Pot pies are perfect for repurposing leftovers (some would call it disguising them). We love pot pies for being infinitely adapatable! Make it meaty with leftover turkey or part of a rotisserie chicken. Got a vegan in your house? Fill it up with umami-packed mushrooms and no one will miss the meat. Trying to avoid dairy products? Skip the milk, using only stock. As for the topping, pie crust is traditional but if there's no time for that frozen puff pastry is beautiful and delicious or a biscuit topping (homemade or from a can) is sure to please. Choose your baking dish - round pie plate, square baking pan, cast iron skillet - indiviudal ramekins will elevate your pot pit to something restaurant worthy. The possibilities are endless!
Carrot, Mushroom, Rutabaga Pot Pie with
Whole Wheat Vegan Pastry Topping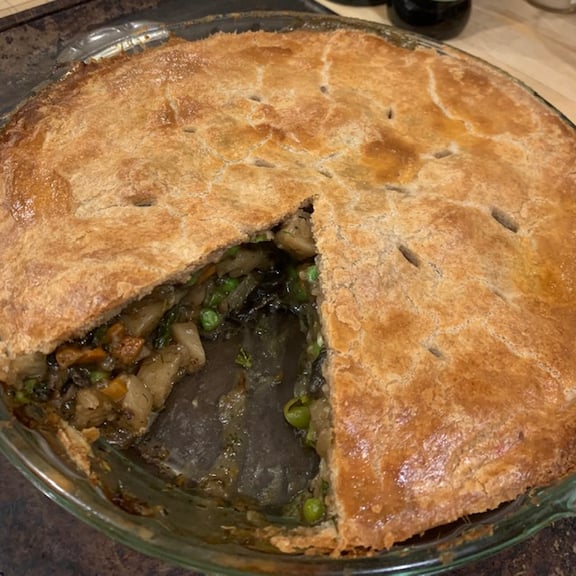 BASIC POT PIE FORMULA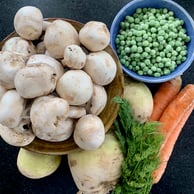 1 Tbsp vegetable oil
1 small or 1/2 large onion, chopped (about 1 cup)
1 cup carrot, peeled and chopped, for the color and sweet flavor
1 tsp salt
1/4 tsp pepper
6 cups total other vegetables and meat for filling, peeled as need and diced into 1/2' pieces
daikon radish
fennel
celery
celery root
chicken
mushrooms - most pot pies benefit from at least a cup of sliced mushrooms
potatoes
rutabagas
sweet potatoes
turkey
turnips
winter squash
4 Tbsp flour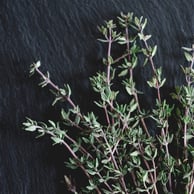 2 cups stock or half stock and half milk
1 tsp dried thyme or 2-3 sprigs fresh thyme
1 cup (or more to taste) frozen peas (or green beans)
3 scallions, whites and greens thinly sliced
1/4 cup herbs: dill, tarragon, parsley, cilantro are all good choices, or a combo
Topping of your choice: pie crust or one sheet frozen puff pastry or biscuits


INSTRUCTIONS:
Heat oil in large skillet until shimmering then add onion and carrot. Saute until beginning to soften, 2-3 minutes.
If using mushrooms add now with salt and pepper and saute until they release liquid. Add remaining vegetables (do not add meat now) and saute about 5 minutes.
Sprinkle vegetables with flour and continue cooking until flour browns and is incorporated with vegetables, about 2 minutes. Add liquid and thyme, bring to boil and allow to simmer until thickened and vegetables are just tender.
Taste and adjust for seasoning.
Add meat (if using), peas, scallions and herbs.
Place in baking dish - 9" pie plate, 8" square baking dish, cast iron skillet, individual ramekins if you're feeling fancy. Cover with topping of choice, poke a few holes in top to allow steam to vent and bake, on a baking sheet in case of overflow, according to topping directions. If using a biscuit topping we find it works best to cook the biscuits for about about 10 minutes on a baking sheet (have the potpie in the oven at the same time) and then place them on the pie filling.
If making ahead, refrigerate filling until cool then cover with foil or plastic wrap. Add topping just prior to baking and increase cooking time by 10-15 minutes to account for the cool start.
Biscuit Topping Puffed Pastry Topping