It used to be that if you had a white collar business in Boston, you put your offices downtown. But that's all changed. Now there are more options -- more things to consider. How many food trucks are there within a 100-foot radius? Is there a bike share dock nearby? Do you even want an office? What about a co-working space instead? Or an incubator? Better still, how about everybody telecommutes?!
Rockhill Management, a commercial real estate company that owns several buildings in Downtown Boston and throughout the US, watched as tenants left to move to trendy neighborhoods like The Leather District or Seaport. As a result of shifting makeup of office buildings Downtown, they decided a change in culture at their buildings would go a long way.
"The market has really changed downtown," said Jennifer Twombly, a senior property manager at Rockhill. "It went from a very traditional base to trying to attract companies from the Seaport and Cambridge that are getting priced out of those areas."
"We started saying we need to attract different types of businesses here."
WELLNESS AND TEAM-BUILDING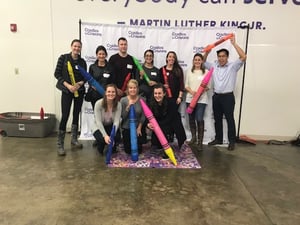 Jennifer manages the office tower at 100 High St,, which Rockhill purchased in 2017. Some playful art had been added to the lobby, and a lounge and bar area was built in unison with a 100 person training room on the 9th floor as well as an open-air roof deck.
A large training center that could adapt to host conferences, events and meetings was a draw for smaller and mid-sized companies. Rockhill created a program for the new space that centered on health and wellness. There are weekly yoga classes and bi-monthly boot camps. Plus, 100 High Street offers tenants reduced membership to a nearby gym.
"Offering these classes and services creates an atmosphere where you're not just a part of your company but also part of a community at the building," said Twombly.
Other perks offered at Rockhill's buildings include manicures, pop up chair massages, newsstands, lunch delivery services, and more. One of Rockhill's properties boasts a top of the line gym for its tenants' employees.
And of course, the building orders organic fruit from Boston Organics.
"When they come down to the lounge, our tenants can grab a piece of organic fruit and a cup of tea or coffee," said Twombly. "We also have a Bevi."
Rockhill does its best to keep the vibe at its buildings fun. Recently, the company celebrated National Cereal Day by offering free cereal and milk to their tenants. Pop up bars are often seen on Thursday or Friday afternoons; encouraging tenant groups to network or take a break toward the end of the week,
Sustainability and Giving
All of Rockhill's properties are LEED Certified (and the building at 160 Federal St., which was built in the 1920s, is LEED Platinum Certified). The team is constantly looking for ways to further reduce energy and costs.

100 High St. and 160 Federal St. are connected and both offer bike parking and repair stations in safe areas. 160 Federal also has a secure bike parking locker.
The company partners with Alex's Lemonade Standto host a stair climb event in the building's stairwell at the end of October. The event raises money to fight childhood cancer. Rockhill also partners with Building Impact to offer donation drives and volunteer opportunities, both on-site and off-site.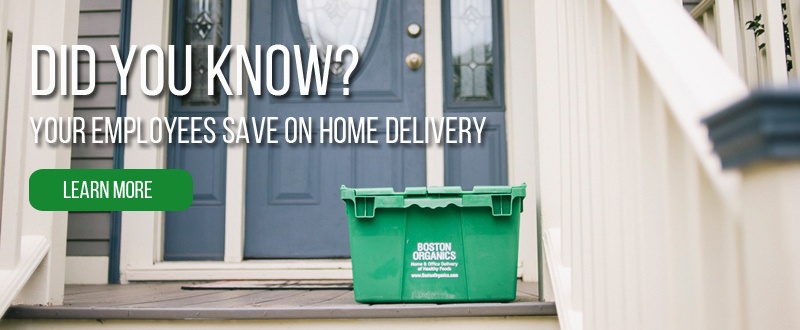 Are you proud of your company's wellness program? Have you seen positive impacts on employee health and engagement? We'd love to hear about it! Please get in touch with us at healthyoffice@bostonorganics.com.