The great thing about Thanksgiving dinner is that no matter how much potatoes, cranberry sauce, stuffing, and green bean casserole you eat, there's always room for dessert. What to have for dessert -- that's another question entirely. Here are 10 totally awesome desserts to serve at your Thanksgiving feast.

Ingredients
FOR THE CRUST:
FILLING:
3 1/2 lbs baking apples, peeled and sliced into 1/4 in wedges
1/2 cup granulated sugar
1/4 cup all purpose flour
1/4 cup light brown sugar
1/2 tsp ground cinnamon
1/4 tsp freshly grated nutmeg
2 tbl butter
1 egg, beaten with 1 tbl water
Recipe
Make the crust:
Combine the flour, sugar and salt in the bowl of the food processor and give it a quick pulse to blend the ingredients. Add the butter and pulse until the mixture looks like crumbly sand.

Add the cheese and pulse again until combined and cheese is worked into the mixture and cut into small chunks. Turn the mixture out into a bowl, drizzle in 6 tablespoons cold water, and mix in with a rubber spatula until the flour is moistened. Add another tablespoon of water, if needed. Divide the dough in half, shape each half into a ball and flatten to a disc. Rest the dough to relax the gluten, 30 minutes.

Make the filling:
Combine the apples, sugar, flour, light brown sugar, cinnamon and nutmeg in a large bowl and toss to combine.
Preheat the oven to 425°F. Adjust the baking racks to the center of the oven.
Roll out 1 disc of the dough on a lightly floured surface to a 12-inch round. Transfer to a 9-inch pie dish. Add the apples in an even layer and dot with the butter.
Lightly brush the edges with egg wash. Roll out the next dough round, slightly smaller than the first. Cover the top of the apples with the second pie dough, pressing the edges to seal the crust. Trim the crust so you are left with a 1-inch overhang. Tuck the crust underneath itself so it's flush with the edge of the pie plate. Crimp the edges decoratively.

Brush the pie with the egg wash and sprinkle with turbinado sugar. Make 5 air slits in the center of the pie. Place the pie on baking sheet and bake for 25 minutes.

Lower the oven temperature to 350°F and bake for 45 minutes longer. Cool to room temperature, at least 3 hours, before slicing.
Tested and Approved by Boston Organics (Vanessa Friedland)
Ingredients
7 apples, unpeeled, (it's easier!) cored and chopped; use a few more if they are small apples
4 tsp fresh lemon juice
1 vanilla bean cut into bits; or use 1/2 tsp of vanilla extract
3/4 cup fresh cranberries (optional)
1/2 cup maple syrup
1/4 cup chopped walnuts (optional)
1 tsp ground cinnamon
1 cup quinoa flakes, or gluten-free oats
1/2 cup coconut oil
Recipe
Preheat oven to 375°F.
Put the apples in a 9x13x2 inch Pyrex casserole dish.

Sprinkle the lemon juice over the apples. Sprinkle the cut vanilla bean, or extract over the top of the apples. Stir the mixture around a bit with a spoon.

Combine maple syrup, cinnamon, and quinoa (or gluten-free oatmeal) in a bowl. Cut in coconut oil. Sprinkle mixture over apples. Bake 45 minutes or until topping looks crisp.
Ingredients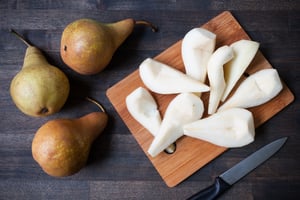 FOR THE FILLING:
4 ripe but still firm pears (I prefer Bosc or Anjou pears)
1 heaping cup fresh cranberries
3 tbl raw sugar (granulated or brown sugar will also work)
1/2 tsp ground cinnamon
sprinkling of fresh lemon juice
FOR THE TOPPING:
1 1/3 cup all-purpose flour
1 cup brown sugar, packed
1/3 cup raw sugar (just use more brown sugar if you don't have raw)
1 tsp ground cinnamon
1/4 tsp freshly ground nutmeg
1/4 tsp salt
1/3 cup oats
1/2 cup (1 stick) unsalted butter, softened to room temperature and cut into cubes
Recipe
Place a rack in the center of the oven and preheat oven to 350 degrees F. Take out an 8×8-inch baking dish and set aside.
First prepare the filling. Cut the top stem and bottom butt off of each pear. The bottom will give you a stable base to peel the pears. Use a small paring knife to peel the pears. Slice each pear in half. Use a small teaspoon to gently run down the length of the inside of the pear, removing the fiberous inside spine, and then scooping out the seeds. Dice the pears into hearty bite-size chunks and place in baking dish. Pour cranberries into dish. Top with sugar, cinnamon, and lemon juice. Toss lightly and set aside.
Next prepare the topping. Whisk together flour, brown sugar, raw sugar, cinnamon, nutmeg, salt, and oats. Add unsalted butter and incorporate with your fingers. Work the butter into the topping mixture until it is well incorporated and some butter bits are still the size of oat flakes or small peas. Add about 1/3 of the topping mixture to the pear and cranberry mixture. Toss to incorporate. Place the remaining topping on top of the mixture.
Bake for 40-45 minutes, until bubbly and delicious smelling.
Remove from oven and allow to cool for about 20 minutes before serving. This dish is perfect served warm with vanilla ice cream.
Crumble lasts for up to 3 days, covered, in the fridge.
Ingredients
Recipe
Place bread in a greased 3- or 4-qt. slow cooker. In a large bowl, combine the eggs, milk, pumpkin, brown sugar, butter, vanilla, cinnamon and nutmeg; stir in cranberries. Pour over bread cubes. Cover and cook on low for 3-4 hours or until a knife inserted near the center comes out clean.
For sauce, in a large saucepan, bring sugar and water to a boil over medium heat. Cook until sugar is dissolved and mixture turns a golden amber color, about 20 minutes. Gradually stir in cream until smooth. Remove from the heat; stir in vanilla. Serve warm with bread pudding.
Yield: 8 servings (1-1/3 cups sauce).
Ingredients
1 pastry or pie crust
1 small butternut or 2 delicata squash (about 1 lb)
2 tbl olive oil
1 to 2 tbl butter
1 large onion, halved and thinly sliced in half-moons
1 tsp salt
pinch of sugar
1/4 tsp cayenne, or to taste
3/4 cup fontina cheese (about 2 1/2 oz), grated or cut into small bits
1 1/2 tsp chopped fresh sage leaves (or 3/4 teaspoon dried)
Recipe
If you want to make your own pastry, you can go to
Smitten Kitchen
for her recipe, use your own, or use a store-bought pie crust.
Preheat oven to 375°F. Cut squash in half. Scoop out seeds and place on a baking sheet with skin down, orange "meat" up. Brush tops with olive oil and sprinkle 1/2 teaspoon salt on top. Bake about 30 minutes until tender. Set aside to cool slightly.
While squash is roasting, melt butter in a heavy skillet and cook onion over low heat with the remaining half-teaspoon of salt and pinch of sugar, stirring occasionally, until soft and lightly golden brown, about 20 minutes. Stir in cayenne.
Increase the oven temperature to 400°F. Mix squash, caramelized onions, cheese, and sage together in a bowl.
To assemble pie/galette, roll out pie crust and place on an ungreased baking sheet. (If making your own, roll it out on a floured surface and then transfer to baking sheet.) Spread squash, onions, cheese and herb mixture over the dough, leaving a 1 1/2-inch border. Fold the border over the squash, onion and cheese mixture, pleating the edge to make it fit. The center will be open.
Bake until golden brown, 30 to 40 minutes. Remove from the oven, let stand for 5 minutes. Cut into wedges and serve hot, warm or at room temperature.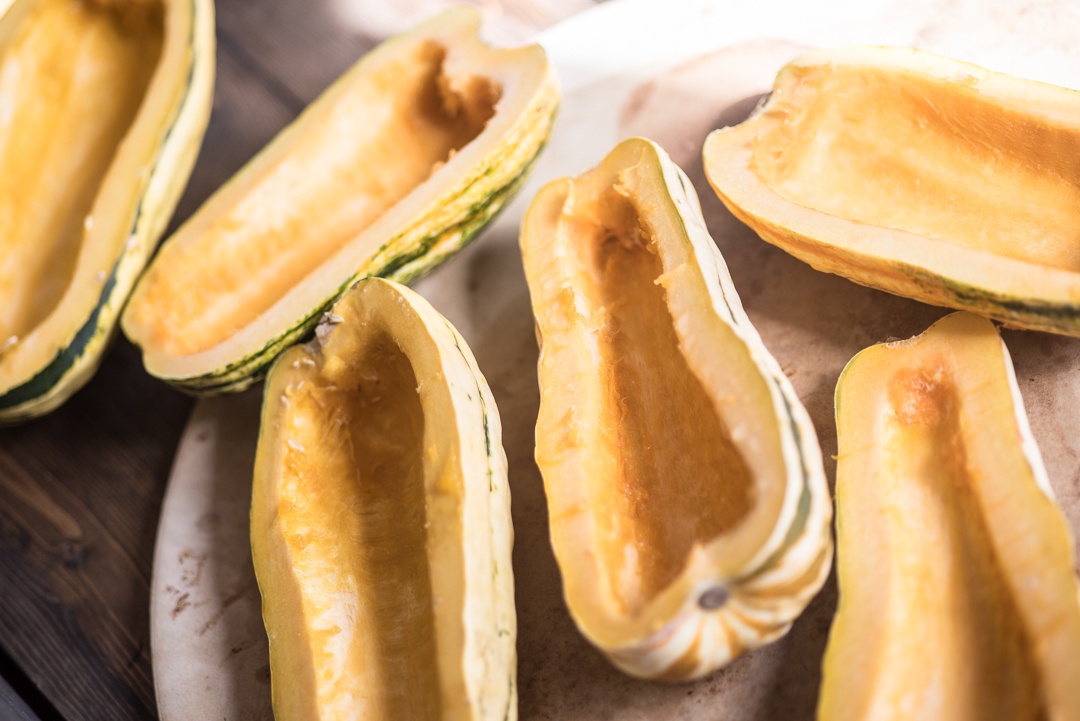 Ingredients
3 medium delicata squash
1/2 cup brown sugar
1/3 cup white sugar
1/2 tsp salt
2 tsp cinnamon
1 tsp ginger
1/4 tsp clove
1/4 tsp cardamom
1 pate brisee (pastry dough; you can find a good recipe at

Smitten Kitchen)
Recipe
Preheat the oven to 350°F. Cut the delicata squash in half, de-seed, place in a roasting pan with a pat of butter in each half and roast until soft, about 30 mintues.
While the squash is cooking, roll out your pate brisee and line a tart or pie pan. Set aside, preferrably in the fridge, until ready to fill.
Once the squash has cooked and cooled, spoon the flesh out and purree. The purree should equal about 2 1/2 cups.
In a large bowl add the delicata purree, and mix in the rest of the ingredients. Beat 2 eggs plus one yolk, until homogenized, and add to the mixture. Then mix in 1-1/4 cup heavy cream. Pour mixture into pie shell and bake for about 1 hour, until just set.
Half way through, turn the pie 180° to ensure even cooking. Allow to cool, and serve along with whip cream or vanilla ice cream.
Ingredients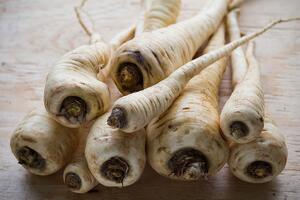 6 to 7 parsnips, peeled and cut in 1-inch slices
2 eggs, beaten
1 cup milk
1/3 cup sugar
1/4 cup melted butter
1/4 cup ground almonds
1 tsp grated orange rind
1/2 tsp vanilla extract
1 9-inch prebaked pie shell
1/3 cup orange marmalade
2 tbl toasted sliced almonds
Recipe
Heat the oven to 350°F. In a large pan bring water to a boil, add parsnip pieces, and cook until easily pierced. Drain. Combine the parsnips with the next 7 ingredients. Pour into pie shell and bake until a knife blade comes out clean, about 30 to 40 minutes.
While the pie is still warm, spread with the marmalade (you may strain it if you want a more glazelike topping) and sprinkle with the sliced almonds.
Ingredients
2 eggs plus the yolk of a third egg
1/2 cup packed dark brown sugar
1/3 cup white sugar
1/2 tsp salt
2 tsp cinnamon
1 tsp ground ginger
1/4 tsp ground nutmeg
1/4 tsp ground cloves
1/4 tsp ground cardamon
1/2 tsp lemon zest
2 cups of pumpkin pulp purée from a pie pumpkin* or from canned pumpkin purée (can also use puréed cooked butternut squash)
1 1/2 cup heavy cream or 1 12 oz. can of evaporated milk
1 good pie crust
Recipe
To make pumpkin purée from scratch, cut a medium-small sugar pumpkin in half. Scrape out the insides (reserving the pumpkins seeds to toast) and discard. Line a baking sheet with Silpat or foil. Place the pumpkin halves cut side down on the lined baking sheet and bake at 350°F until a fork can easily pierce them, about 1 to 1.5 hours. Remove from oven, let cool, scoop out the pulp. Alternatively you can cut the pumpkin into sections and steam in a saucepan with a couple inches of water at the bottom, until soft (strain before using). If you want the purée to be extra smooth, press the pulp through a food mill or chinois.
Preheat your oven to 425°F. Beat the eggs in a large bowl. Mix in the brown sugar, white sugar, salt, spices-cinnamon, ground ginger, nutmeg, ground cloves, cardamom, and lemon zest.
Mix in the pumpkin purée. Stir in the cream. Beat together until everything is well mixed.


Pour the filling into an uncooked pie shell. Bake at a high temperature of 425°F for 15 minutes. Then after 15 minutes, lower the temperature to 350°F. Bake for 45 to 55 minutes more, or until a knife inserted in the center comes out clean. (About half-way through the baking, you may want to put foil around the edges or use a pie protector to keep the crust from getting too browned.)
Cool the pumpkin pie on a wire rack for 2 hours. Note that the pumpkin pie will come out of the oven all puffed up (from the leavening of the eggs), and will deflate as it cools.
Serve with whipped cream.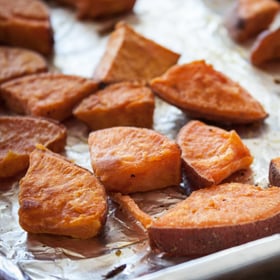 Ingredients
2 large sweet potatoes, or enough for 1 1/2 cups puréed roasted sweet potatoes
2 tbl butter, melted
1/2 cup applesauce
1 tbl fresh lime juice
1/4 cup mild honey
1 tsp vanilla extract
1/2 cup milk
2 tbl drained yogurt or crème fraiche
1/2 tsp freshly grated nutmeg
1/4 tsp salt
3 eggs
1 egg yolk
1 fully baked and cooled pie crust (optional)
Recipe
Preheat the oven to 425°F.
Line a baking sheet with foil. Pierce the sweet potatoes in several places with the tip of a paring knife. Place on the baking sheet and bake 40 to 50 minutes, until soft and oozing.
Remove from the oven and when cool enough to handle, peel and place in a food processor fitted with the steel blade (you can also blend the mixture with a hand blender). Turn the oven down to 350°F. If not using a crust, butter a round 9-inch baking dish.
Measure out 1 1/2 cups of sweet potato purée (store any extra purée in the refrigerator and enjoy with a meal). Place the purée in the food processor, or in a bowl if using a hand blender, add the remaining ingredients (except the crust) and blend until smooth and creamy. Scrape into the baking dish or the crust. Place on a baking sheet and bake for 45 to 50 minutes, or until set. Remove from the oven and allow to cool completely.
Adapted from New York Times Recipes
Ingredients
CRUST:
2 cups all-purpose flour
1 tsp salt
3/4 cup shortening (recommended: Crisco)
ice water
FILLING:
1/2 cup to 1 cup all-purpose flour
6 to 7 cups apples cut into thin slices (recommended: Green Golden and Jonathans)
1 cup white sugar
1 cup brown sugar
1 tsp cinnamon
2 tbl butter
Recipe
Preheat oven to 375°F.
In a medium-mixing bowl cut the shortening and salt into the flour by hand or with a pastry blender hands until it's the texture of cornmeal. Sprinkle 1 tablespoon of ice water over the mixture and mix just until the dough is moistened. Repeat by adding 6 to 8 tablespoons water (one at a time) until all the dough is just moist. Take care not to over mix.
Divide the dough in half and roll into a ball. Roll 1 ball into a circle to fit a 9 to 10-inch pie plate. To transfer the pastry to the pie plate, wrap it around a rolling pin and ease it into the pie plate. Be careful not to stretch the pastry. Trim it even with the edges of the pie plate.
In a medium bowl combine the apples, with the brown and white sugar. Add flour, cinnamon and continue mixing until they are well coated.
Add the apple filling into the pastry lined pie plate. Make sure they are laying flat. Cut butter into small pieces and put on top of the filling.
Roll the remaining pastry into a 12-inch circle. Place on top of the filling. Trim off 1-inch beyond the edge of the pie plate. Crimp the edges as desired. Cut slits to allow steam to escape when baking. Sprinkle a little sugar and cinnamon over the pie.
Cover the edges with foil to prevent over browning. Bake for 25 minutes. Remove the foil and bake for another 20 to 25 minutes, or until it is golden brown. Serve warm with vanilla ice cream.
---
Do you have any favorite Thanksgiving desserts? Share in the comments below!