Start your Thanksgiving menu off with a delicious seasonal soup. Perhaps your turkey isn't done on time or you're in the middle of mashing potatoes or making gravy. A cup of soup, served in a mug with a spoon can be just the thing to buy you some time while keeping everyone happy!
Here are 7 recipes for vegetarian soups that will start your Thanksgiving feast off right.
Note: A few of these recipes have been updated to make them vegetarian (some that originally called for chicken broth now call for vegetable broth). You can view the original version of the recipes by clicking on the recipe names.

Ingredients
1 1/2 lbs red kuri or butternut squash, peeled and cut into 1-inch cubes (3 cups)
1/2 medium onion, coarsely chopped
1 bay leaf
1 medium fennel bulb, cored and cut into thin wedges
1 Tbsp extra-virgin olive oil, plus more for drizzling
salt and freshly ground black pepper
1 Tbsp unsalted butter
chopped toasted pecans and small marjoram leaves, for garnish
Recipe
Red-orange kuri squash has a pumpkin shape, but no ridges. Its flavor is sweet and nutty, reminiscent of chestnuts.

Preheat oven to 375°F. In large saucepan, combine cubed squash with chopped onion, bay leaf and 3 cups of water and bring to boil over high heat. Cover and simmer over low heat until squash is tender, about 20 minutes.

Meanwhile, on a large rimmed baking sheet, toss fennel wedges with the 1 Tbsp of olive oil. Season with salt and pepper and toss well. Roast for about 25 minutes, until fennel is tender and starting to brown.

Discard bay leaf from the soup. Working in batches, puree the soup in a blender. Return soup to saucepan and warm over low heat. Stir in butter and season soup with salt and pepper. Ladle soup into bowls and garnish with roasted fennel, pecans, marjoram leaves and a drizzle of olive oil.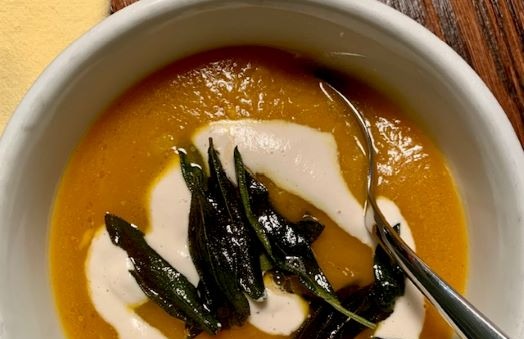 Ingredients
FOR THE SOUP:
2 pie pumpkins for roasting (pumpkins need to yield between 4 and 5 cups of roasted pumpkin)
olive oil, salt and red pepper flakes for roasting
3 Tbsp olive oil
1 medium yellow onion, diced
2 cloves garlic, minced
2 tsp yellow curry powder
4 cups roasted pumpkin flesh (from what we roasted above)
6 cups vegetable broth
salt and pepper to taste
sage leaves quick fried in oil and good olive oil for garnish
FOR CASHEW CREAM:
1 cup raw cashews (raw cashews are important because they're more soft that the roasted variety)
1 cup water
Recipe
First prepare cashews for cashew cream. In a small bowl combine cashews and water. Set aside. Allow to soak for at least 1 hour.
Place rack in the center and upper third of oven and preheat oven to 400°F. Lightly drizzle two baking sheets with olive oil. Set aside.
Slice pumpkins in half. Use a spoon to scrape out all of the seeds and strings. The seeds can be rinsed and saved for roasting. Discard guts and strings.
Place pumpkins so that scraped flesh is face up. Drizzle each half with olive oil, salt, and crushed red pepper flakes. Place in oven and allow to roast until soft and a fork inserted through the flesh meets no resistance, about 30-40 minutes.
Remove from oven and allow to rest until cool enough to handle. Once cool enough to handle, scoop soft pumpkin flesh out of pumpkin skin, measuring 4 cups into a medium bowl. Set side.
In large pot, heat olive oil over medium heat. Add onions and cook until browned and translucent, about 7 minutes. Add garlic and cook for one minute more. Add curry powder and cook for one minute more. Add 4 cups of pumpkin flesh and stir until incorporated. Add vegetable broth and stir to combine. Bring soup to a boil and simmer for 20 minutes. Remove from heat and use an immersion blender to blend the soup until creamy. (If you don't have an immersion blender, you can add the soup to a blender and blend until smooth. This can be done in several batches.)
Lastly make cashew cream. In a blender combine cashews and soaking water. Blend until smooth, about 1 minute. Add cashew cream to the blended pumpkin soup. Stir to combine.
Add salt and pepper to taste.
Serve warm with a drizzle of olive oil and fried sage leaves.
Ingredients
Recipe
Heat oil in a large soup pot over medium heat. Add onion, carrots, celery and garlic; cook and stir until onions are tender and transparent. Stir in mushrooms and continue to cook for a few minutes. Pour in broth and add barley. Bring to a boil, then reduce heat to low. Cover and simmer until barley is tender, about 50 minutes. Season with salt and pepper before serving.
Ingredients
1 1/2 lbs (1 small to medium) butternut or other winter squash
1 tsp canola oil
2 stalks celery, chopped
1 small onion, diced
1 carrot, chopped
1 tsp ground cumin
1/4-1/2 tsp ground chipotle chile
1/8 tsp ground cloves
6 cups vegetable broth
1 tsp sea salt
1/4 tsp freshly ground pepper
1/2 cup nonfat plain yogurt
2 Tbsp snipped fresh chives, or chopped parsley
Recipe
Preheat oven to 350°F.
Cut squash in half and seed. Place halves on baking sheet, cut-side down. Bake until tender when pierced with a knife, 45 minutes to 1 hour. Scoop out flesh when cool enough to handle.
Heat oil in a large saucepan over medium heat. Add celery, onion and carrot and stir to coat. Cover, reduce heat to medium-low and cook, stirring frequently, until soft, 8 to 10 minutes. Stir in squash flesh, cumin, chipotle to taste and cloves. Add broth and simmer, covered, until the vegetables are very tender, 20 to 25 minutes.
Puree soup with an immersion blender or a regular blender (in batches) until smooth. (Use caution when pureeing hot liquids.) Season with salt and pepper. Garnish with a drizzle of yogurt and sprinkle of chives (or parsley).
Ingredients
1/4 cup (1/2 stick) unsalted butter
3 cups coarsely chopped peeled raw beets
3 cups chopped red onion
3 celery stalks, coarsely chopped
1 cup chopped red cabbage
3 Tbsp finely chopped seeded jalapeño chiles
5 cups vegetarian broth
2 Tbsp fresh lime juice
sour cream
Recipe
Melt butter in heavy large saucepan over medium-high heat. Add beets, onions, celery, cabbage, and chiles; sauté until celery is soft, about 10 minutes.
Add 5 cups broth and lime juice; bring to boil. Reduce heat to medium-low. Cover and simmer until vegetables are very tender, about 1 hour 15 minutes.
Working in small batches, puree soup in blender until smooth. Return soup to pot; season to taste with salt and pepper. Add more
broth until desired consistency is reached. Ladle soup into bowls and top with tortilla chips and sour cream.
Ingredients
Recipe
Cube or chop beets, other roots, and onions, and simmer for 20 minutes in stock. Add rest of ingredients and simmer another 20 minutes. Serve with a dollop of sour cream, cottage cheese, or yogurt.
Tested and Approved by Boston Organics (Chris McIntosh)
Ingredients
1 large butternut squash, peeled and seeded
2 yellow onions
2 large apples, peeled and cored
3 tbl olive oil
kosher salt and freshly ground black pepper
2 cups vegetable stock
1 cup milk or cream
1 tsp ground ginger
1/2 tsp ground nutmeg
Serves 4-6
Recipe
Preheat the oven to 425°F. Cut the butternut squash, onions and apples in 1-inch cubes.
Place them on sheet pan (or 2) and toss with olive oil, a generous teaspoon of salt and 1/2 teaspoon pepper. Spread squash mixture in a single layer in 1 or 2 sheet pans, whatever fits. Roast for 35 to 45 minutes, until vegetables are very tender and slightly browned.
Transfer squash mixture to large stockpot, add 2 cups of vegetable stock, and turn heat to medium until the stock is simmering.
Remove pot from heat and transfer its contents into a food processor or blender, doing it in batches if you need to. Puree soup until smooth, then transfer back into the stockpot and put on low heat.
Stir in milk or cream, ginger, nutmeg, and more salt and pepper to taste. Add more stock or milk if soup is too thick. Let simmer on low for 5 to 10 minutes, then ladle into bowls, top with a dollop of cream and sprinkle with a pinch of nutmeg.
Adapted Tufts University Culinary Society
---
What's your family's favorite soup? Share in the comments below!