What's not to love about salsa?!? It's good for you, easy to prepare, adds a fresh vibrancy wherever it turns up and easily feeds a crowd. Plus there are unlimited variations beyond the classic salsa fresca, with its timeless combination of tomatoes, garlic, onions, cilantro, salt and lime.
Here are a handful of delicious (and nutritious) takes on salsa from the Boston Organics recipe database.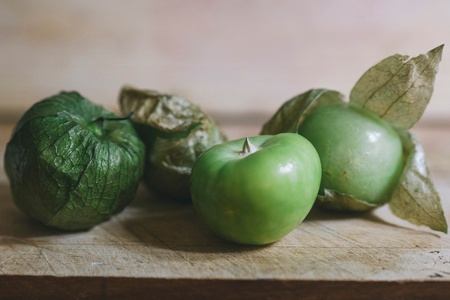 Ingredients
4 oz tomatillos, husked and rinsed
4 cloves garlic
2 medium white onions, quartered
2 jalapeños, stemmed
1 tsp sugar
1 bunch cilantro, stemmed
Kosher salt and freshly ground black pepper, to taste
Recipe
Place tomatillos, garlic, onions, and jalapeños in a 4-qt. saucepan; cover with water by 1". Bring to a boil; cook until slightly soft, about 5 minutes. Drain and reserve 1 cup cooking liquid. Transfer to a blender along with reserved liquid, sugar, cilantro, and salt and pepper; pulse until chunky. Transfer to a bowl, and serve at room temperature. Bright and fruity, this salsa is the perfect counterpoint to the richness of cheesy dishes and grilled meats. It also goes well with Late July Organic Tortilla Chips.
Ingredients
8 ounces fresh cranberries
1 jalapeno, seeded and coarsely chopped
1/4 cup brown sugar
1 Tbsp olive oil
1 small bunch green onions, white and light green parts thinly sliced
Cilantro (optional)
Recipe
1. In the bowl of a food processor pulse the cranberries and jalapenos until uniformly chopped. Stop before it goes to mush.
2. Remove the cranberry mixture to a bowl and add the oil, onions, and brown sugar. Also add chopped cilantro, to taste, if you are using it. You can add a little more sugar if you think it needs it, but it sweetens as it sits in the refrigerator so don't go overboard. Stir it all together and cover it with plastic wrap.
3. Let the salsa remain in the refrigerator for at least one hour. Stir it well before serving with tortilla chips or pork or chicken.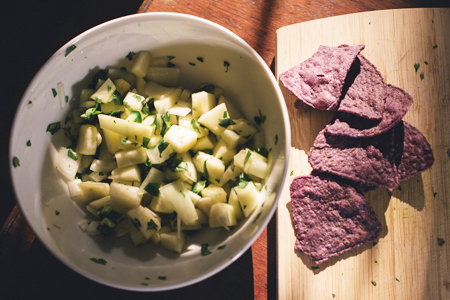 Ingredients
2 apples, peeled, cored, and chopped
1 small-medium onion, roughly chopped
1/2 jalapeno, deseeded and finely chopped
2 Tbsp fresh, finely chopped cilantro
Juice of one lemon
2 tsp agave nectar or honey
Recipe
Combine all ingredients in a glass bowl and stir to combine. Cover and chill in the refrigerator for at least 1 hour before serving. Serve with Que Pasa Organic Blue Corn Tortilla Chips.
Can be made one day ahead. Serves 4.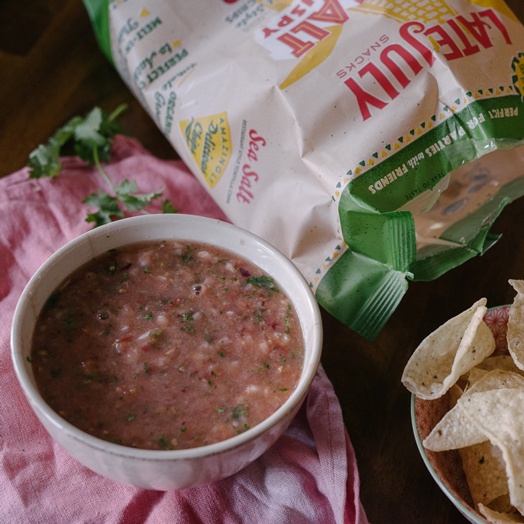 Ingredients
2 ripe peaches, peeled and coarsely chopped
3 medium tomatoes, seeded and coarsely chopped
1/2 medium sweet onion, coarsely chopped
1/2 jalapeno, seeds and membranes removed, and diced
1/2 cup cilantro leaves
1 garlic clove, minced
1 Tbsp red wine vinegar
juice of 1 lime
1/2 tsp salt
1/8 tsp freshly cracked pepper
Recipe
Combine all ingredients in a food processor, and pulse 10-15 times, or until desired consistency is reached. Taste and adjust seasonings to taste with salt, pepper, jalapeno, garlic, lime, vinegar. Serve with your favorite tortilla chips. Also delicious with grilled fish.
More SALSAs: