Each week we distribute thousands of bananas to homes and offices in the greater Boston area. We recognize that this star of the breakfast table and brown bag lunches, this staple of the fruit bowl is an important part of your healthy diet so we endeavor to bring you the highest quality, fairly traded sweet, delicious fruits that we can!
Here's a chart of how we measure banana ripeness.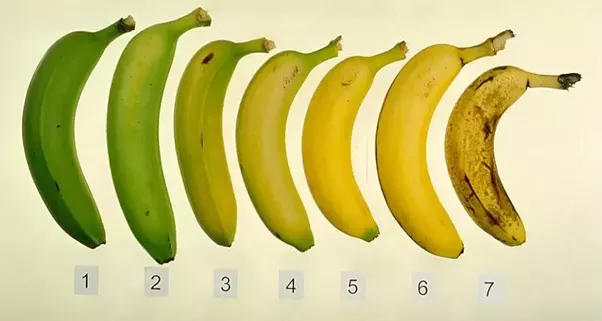 We aim to send out bananas that are ready to eat, or that will be in a day or so. Those usually fall in the 4-6 zone. One of the great characteristics of bananas is that they are a climacteric fruit meaning that they mature on the tree, the banana palm, but ripen after picking. So they ship while green, allowing them to arrive to you at their peak of ripeness.
Most of the organic bananas we receive are quite green, in the 1-2 range, which allows us to rotate our inventory so that your box generally contains organic bananas that are close to ready-to-eat. Ever wonder why the stem is wrapped in plastic? The plastic impedes the release of ethylene gas so that ripening is slowed. If you ever want to speed the ripening of your bananas remove the plastic! Sometimes we'll remove one or two bananas from a greenish bunch so that they ripen more quickly than the others. That we have breakfast-ready bananas.
The ethylene gas from bananas can help speed the ripening of other fruits like avocados and pears. Just place the unripe fruit in a paper bag with a banana free of its plastic hat and leave for a day or two. It'll be eating ready in no time.
There's a lot to think about as you're slicing bananas for your morning cereal.

We do our best to source Fair Trade bananas because banana plantation workers in South America are often subject to low wages and hazardous working conditions, including exposure to harmful chemicals. We source organic bananas because of the concerns we have for the health and safety of the growers, our customers and the planet, that way you can feel good about the bananas you eat and feed your family.
As you can see a lot goes into getting bananas from the farm to homes and offices in the Boston area!

The infographic below, from Equal Exchange, describes the path that our bananas follow from the farm to your stomach. It takes nearly a month from the day that a banana is harvested before it arrives in your Boston Organics box, including a two-week journey from a port in South America to one in the US, plus a stint in the ripening room.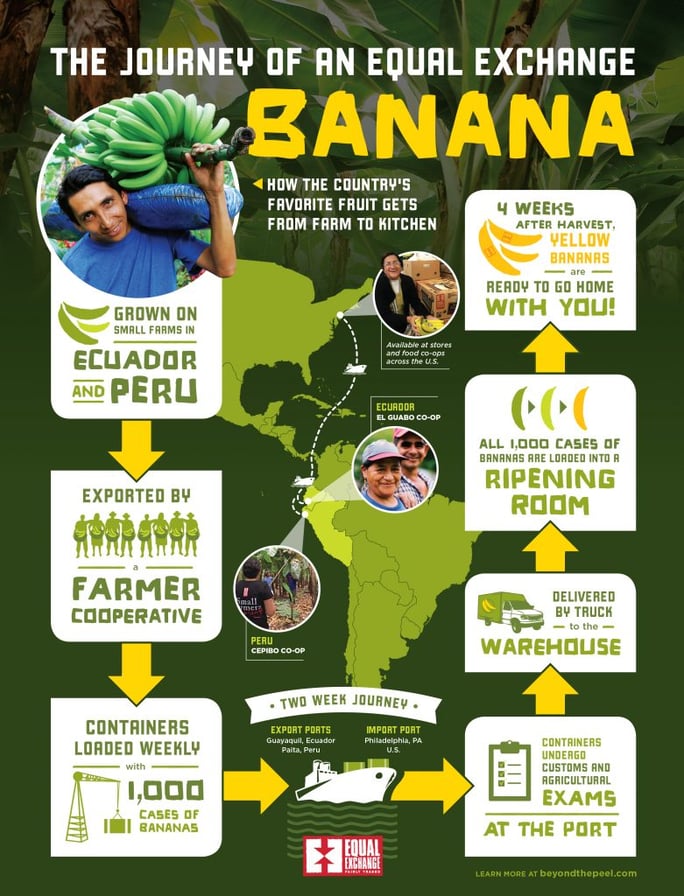 For banana recipes and storage tips and tricks visit our website.