The big game is less than a week away and it's time to start planning your Super Bowl menu. There will be no shortage of chicken wing recipes floating around the internet in the coming days. We thought we'd suggest a few vegetarian options.

Ingredients
1 cup cashews

1/2 teaspoon ground cinnamon
1 teaspoon honey
1/2 teaspoon pure vanilla extract
A pinch of sea salt
Recipe
In a small bowl, cover cashews with hot water. Let soak for 30 minutes. Drain the cashews, reserving the liquid. Transfer the cashews to a blender along with 1/2 cup of the reserved liquid. Add the remaining ingredients and blend until creamy, adding more of the reserved liquid if necessary to get the mixture smooth and creamy but still thick. Chill. Serve with sliced apple, pear, celery, etc.

Ingredients
1 head cauliflower
1/4 cup olive oil
1/2 cup hot sauce (Frank's)
1/2 stick salted butter (3 ounces)
1 large clove of garlic, minced
1/2 teaspoon kosher salt
Recipe
Preheat oven to 450°.
Chop the cauliflower into bite size pieces and florets and toss it with the olive oil.
Spread the chopped cauliflower onto a large roasting pan and roast for 20 minutes (or until golden brown)
While the cauliflower is roasting, melt the butter in a small bowl along with the garlic. Pour this along with hot sauce and salt into a bowl large enough to hold all of the florets and stir to combine.
Remove the cauliflower from the oven and transfer to the bowl and toss with the sauce. Serve warm with a side of blue cheese or ranch dressing.
Recipe Courtesy of Tom Ayling, Boston Organics Fleet Manager
Ingredients
1 ripe avocado
juice of 1 lime
3 to 4 tablespoons diced scallions (the white part is great) or diced red onion
2 tablespoons finely diced jalapeno (deseeded to remove some of the spice)
a bit of chopped cilantro if you're feeling it
salt and coarse ground black pepper to taste
wonton wrappers
1 egg, beaten
thin scallion green strips
canola oil for frying
Recipe
Mash avocado in a small bowl . Stir in lime juice, scallions or onions, jalapeno, cilantro (if using), and salt and pepper. Mash well so that the avocado is relatively smooth. Set aside.
On a clean work surface, set out six wonton wrappers. Brush lightly with beaten egg. Dollop about 1 teaspoon of avocado mixture into the center of the wonton. Roll into a small pouch, pinching the wonton skin around each side of the avocado mixture. The egg will help seal the pinched ends. Very gently tie a scallion green on each end of the wonton. Repeat until all six avocado packages are done. Then repeat until all of the avocado mixture is done. Assembled pouches can be frozen on a single layer until frozen through. They can then be carefully stacked in a freezer-safe container. When ready to fry, remove pouches from the freezer, place in a single layer on a plate, allow to defrost for about 30 minutes then fry according to the instructions below.
To fry pouches, place oil in a shallow, heavy bottom saute pan. The oil should be about 1-inches deep. Heat over medium heat. To test the oil, dip a corner of a wonton skin in the oil. If it begins to strongly sizzle, you're ready to go. Place three avocado stuffed wontons into the hot oil. Cook for about 45 seconds on each side, using a pair of tongs to rotate. The wontons may need a bit longer if they've been frozen. Remove when wonton is golden brown and crispy on all sides. Allow to rest on a few sheets of paper towels.
Fried guacamole are best served warm, or within an hour of frying.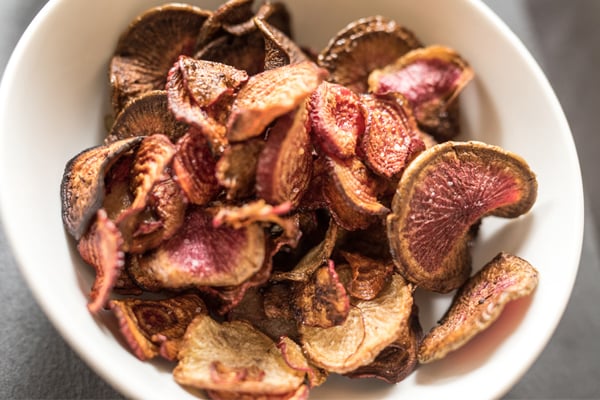 Ingredients
2 large black radishes
olive oil
balsamic vinegar
salt, pepper
Recipe
Preheat the oven to 430°F. Grease a baking dish (unless it is non-stick).
Wash and scrub the radishes. Peel them with a vegetable peeler, leaving half of the peel in stripes if desired. Slice the radishes thinly - very thin slices will be more chip-like, slightly thicker slices will be moister - and put the slices in the baking dish.
Pour a little olive oil, a little vinegar, sprinkle salt and pepper. Toss with a wooden spoon to coat. Pour and sprinkle more if necessary, until all the slices look comfortably dressed - but not drenched.
Put in the oven to bake for about 40 minutes, until the chips are golden and their edges start to crisp up. Serve warm, as an appetizer or a side.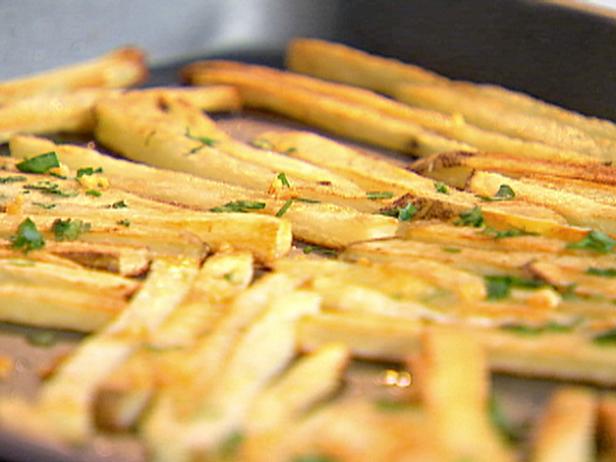 Ingredients
6 small potatoes cut into 1/2 inch x 3 inch pieces
2 tbsp grapeseed oil
2 tbsp fresh rosemary minced
1 tbsp fresh garlic minced
Kosher salt
fresh cracked black pepper
Recipe
Preheat oven to 425 degrees
Toss potatoes in grapeseed oil. Place on a foil lined cookie tray and bake for 40 minutes or until potatoes become golden brown. Make sure to mix around half way through.
Combine rosemary, garlic and salt and pepper in a bowl and toss the fries with the mixture.
Bake for another 5 minutes and serve hot out of the oven.
B.O. customer John O.!