We're always looking for ways to cook healthy meals while saving time and money.
To help you get the most out of your produce deliveries, we created a Weekly Meal Planner so you can organize and plan all of your weekly meals with your Boston Organics produce!
How to Use It:
Once you download the PDF, you can print it out, laminate it, and put it on your fridge. Fill it out with a dry erase marker each week, and you'll be the most organized home cook in no time.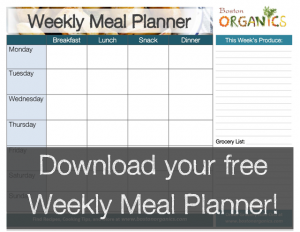 Want to get even more organized? Check out these 6 tips for meal planning.
We hope this helps you save time, eat better, and save money at the grocery store!