The snowy white hakurei turnip is a late fall specialty at Michael Docter's farm in Hadley, MA.
Like a giant pearl pried from the grasp of an underground oyster, these beautiful root vegetables are harvested just after the first frost falls on Winter Moon Farm.
There's no need to peel the smooth, iridescent skin of a hakurei turnip. In fact, they can even be eaten raw. Uncooked, hakurei turnips are crisper than an apple. They have a bit of a bite, but they're far milder than a radish.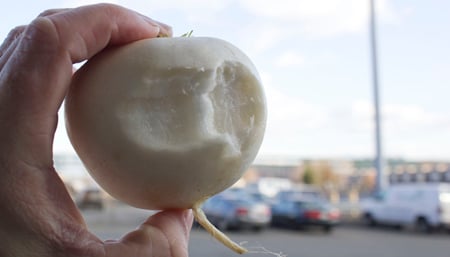 Thinly sliced raw hakureis make surprisingly good crudités when sprinkled with a little salt, or you can shave them into a salad along with a spritz of citrus.
Just a few minutes in the oven brings out the buttery undertones and natural sweetness in this hybrid turnip, which was invented in Japan during a food shortage in the 1950s. You can roast, glaze, braise, boil or steam these pearly globes as you would any other root vegetable, but be warned that their high water content may cause them to get mushy if cooked on a low of a temperature for too long.
We suggest you throw sliced hakurei turnips into a stir-fry as a flavorful substitute for water chestnuts, and as you might imagine, these turnips make wicked good pickles.
Our 3 Best Recipes for Hakurei Turnips: