It feels as though spring has finally arrived, with tons of new life in the form of blooming flowers and chirping birds and seedlings thriving at our partner farms. At Boston Organics, several staff have recently become dads, and we love hearing about their kids as they grow, change and make adorable faces. We also love hearing about what they eat, because, well, that's what we're about.
Fleet Manager Tom Ayling's daughter Rose and Operations Assistant Dave Jeffery's son Jack were born within a week of each other at the end of last summer. Nine months later, they've tried their first solid food, grown a few teeth and are two of our favorite produce eaters. We caught up with Tom and Dave to hear about their adventures in preparing solid food and introducing their kids to new produce items.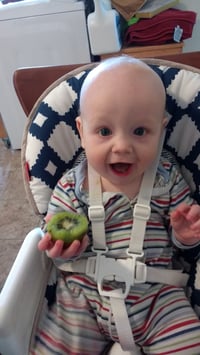 Both Jack and Rose have tried quite a few fruits and veggies in the last couple of months, which their parents have pureed for them. Jack is especially partial to avocados, so much so that he'll lean in whenever he sees a green food, hoping it's the fruit he loves. Rose's latest favorite is peaches. Peeled, blanched, and pureed, who could resist bites of delicious, sweet, mashed up sunshine?
Another that Rose is really into is sweet potatoes. To help add nutrition to these tasty tubers and add some liquid for a smooth consistency, Rose's parents make a hearty bone broth and puree it with her fruits and veggies.
To make your own collagen-rich broth, place a whole chicken in a crock pot, add some celery and carrots and cover it with water. Cook for twenty-four hours, pausing after six hours to pull the meat off the chicken for grown-up food later. Remove the carcass after the full twenty-four hours, strain any solids, and mix it into baby food purees, or offer it in a bottle. Adults can enjoy it by the mugful too!
For Dave, Jack's dad, introducing Jack to new fruits and veggies is a way to share the experience of a meal. Sometimes, he and Jack will split an avocado for breakfast, and Dave says it's awesome to be able to share that with his son. Dave's wife will prepare soups for the family, reserving some for Jack before adding salt and seasonings so that everyone can enjoy a shared meal.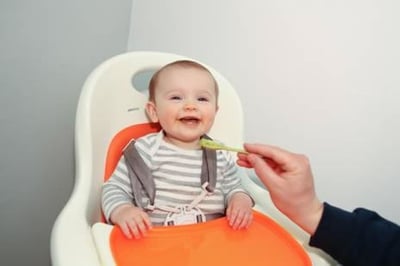 An added benefit to prepping food for Jack, Dave says, is that there's no packaging waste to worry about. He often purees and freezes produce in popsicle molds to thaw and serve to Jack later. He feels good about not being dependent on industrial processes to feed Jack.
Though she's pretty into it now, when Rose first tried avocado, her reaction was definitely mixed; she went from surprised, to upset, to curious, to accepting. Even now, when she tries something new or even eats something she's had and liked before, she might make a weird face. A yuck-face reaction can be more about temperature or texture than flavor, says her dad, Tom, so don't give up. Jack Jeffery will also make a big frowny face when trying something new, especially if it's green and turns out to not be avocado, but will usually keep eating something even if his initial reaction may be no.
Tom says that he enjoys getting creative with combinations of produce to feed Rose. A recent hit was kale and avocado. He says that a big part of introducing Rose to lots of different produce is building a flavor palate, so that she will enjoy more foods later on and continue to try new things.
We look forward to seeing these cuties continue to thrive!
Interested in experimenting with baby food yourself? Check out our add-on produce section to stock up on favorites like bananas, sweet potatoes, avocados, kale and more.