We take our commitment to building a local and sustainable food system seriously here at Boston Organics. Join as us we explore what that means to us and the values we hope to embed in the Boston Organics supply chain.
For many of us, we are drawn to food because of the basic fact that food is a common denominator in all of our lives and that in some way there is something related to food that each of us holds sacred. We then see an equitable and sustainable food system as imperative to ensuring and protecting that all of us are afforded this experience.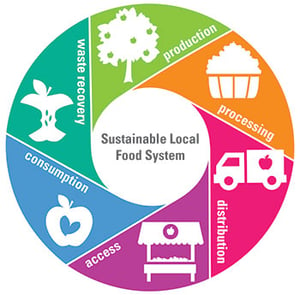 The folks over at Cornell University define a community, or local, food system as one "in which food production, processing, distribution and consumption are integrated to enhance the environmental, economic, social and nutritional health of a particular place."
On the contrary, the industrial food system in the United States is built on the gross exploitation of both people and planet. From the moment of colonization to this very day, millions of people have been and continue to be discriminated against and dehumanized within each link of our food system and by its related policies. Following the lead of many indigenous communities across the globe, local and sustainable food systems advocates are working to restore dignity to workers throughout the supply chain – from farmers and farm workers, delivery drivers, food processors to those working in restaurants and retail – while upholding and prioritizing agricultural practices that protect our environmental resources.
At Boston Organics, we work extremely hard to participate in a food system that does as little harm to the planet as possible while being rooted in our community. That is why we are committed to certified organics as well as the local producers and independent businesses in New England. In 2017, 61% of our total vegetable purchases were from certified organic farms in New England and 70% of all of our vendors are regional and independent businesses. This means our products are traveling fewer miles, are fresher when they get to your home or office and that our purchasing dollars are being reinvested in our local economy.
Quintessential to our operations at Boston Organics, are our drivers and warehouse staff. Too often, folks working in the processing and transportation of food are left out of broader conversations about building a healthy and equitable food system. As the "gig economy" grows, more and more people working in food processing and transportation are independent contractors. Studies have shown that independent contractors tend to, on average, earn lower incomes over the course of a year and are not afforded the same workplace safety requirements as their full status employee peers. This is why everyone working at Boston Organics has access to employee benefits and is a paid a living wage – from our drivers and warehouse employees to our office staff.
Since starting operations in 2002, our beliefs around what it means to build an equitable and sustainable food system have evolved and continue to do so. What remains the same is our passion for high quality, organic food, deep respect for farmers and the environment and an unending commitment to the well-being of our customers, employees and community. We continue to strive towards collaborating with our community partners to build a food system that works for everyone and are grateful for all of you who choose to embark on that journey with us.