Below are some instructions to make sure your deliveries keep arriving in great condition this winter...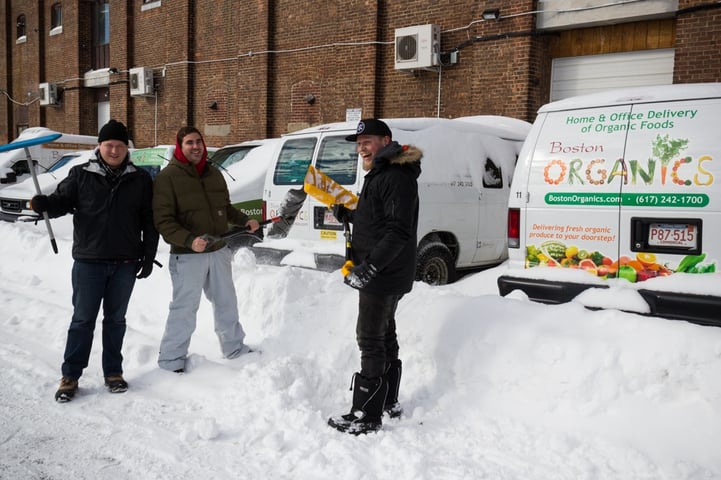 Bring in Your Box ASAP
On sub-freezing days, we ask our drivers to knock on the door or ring the bell at the time of delivery to alert you that he has delivered your box in case you will be home. Please be sure to bring in your order as soon as possible to prevent cold damage to your produce.
While we're not able to guarantee a specific delivery window, our app notifies you when your order has been delivered.
Send us an email or give us a call the morning of your delivery to find out whether your delivery will be made early in the morning or later in the afternoon.
Leave out a cooler
If you're not able to promptly bring in your delivery, there's a chance some of your produce may freeze on colder days. Please consider leaving out a cooler. Our drivers would be happy to transfer your items to insulate them from the frigid temperatures. Here's a sign that you can print and tape to your cooler.
keep your walkways ice-free
When it's snowy and icy out there, we still want to get you your delivery and keep our drivers safe! It's important that you keep your walkways and steps shoveled and de-iced so that your driver can get to your delivery location.
Update your delivery instructions
If you'd like to change your delivery instructions for the season (perhaps from an unshoveled back porch to a front entryway with key access) you can do that on our website or shoot us an email at service@bostonorganics.com
flip your boxes
If you leave your empty boxes outside to be picked up, your drivers request that you leave them closed and upside down so they don't fill with water and turn into a block of ice. If you have any questions about any of this, drop us an email or call 617-242-1700.
Thank you for helping us provide you with the best service possible.