Tis the season for adjusted delivery schedules. Please log in your account and confirm your delivery dates.
Boston Organics will not be making deliveries on Friday December 25 & friday january

1
.
Please see below for information on when we'll be delivering to your zip code during these holiday weeks, and the deadlines for finalizing orders (including add-ons, produce preferences, etc). Jump to ordering deadlines.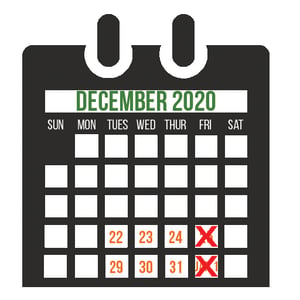 ---
Deadlines for Christmas Week Deliveries
Please observe the following adjusted Christmas week deadlines. These deadlines apply to cancellations, add-on orders, box type changes, produce preferences, payment updates, etc.:
If you have a delivery expected to arrive on...

Finalize

box changes

before 12:00 pm...
Finalize

bread

orders before 12:00 pm...
Finalize

milk

orders before 12:00 pm...
Tuesday, Dec 22
Monday, Dec 21
Friday, Dec 18 Nashoba & Iggy's
Friday, Dec 18
Wednesday, Dec 23
Tuesday, Dec 22
Friday, Dec 18 Iggy's
Friday, Dec 18
Monday, Dec 21 Nashoba
Thursday, Dec 24
Wednesday, Dec 23
Friday, Dec 18 Iggy's
Monday, Dec 21
Tuesday, Dec 22 Nashoba
---
DEADLINES FOR NEW YEAR'S WEEK DELIVERIES
Please observe the following adjusted New Years week deadlines. These deadlines apply to cancellations, add-on orders, box type changes, produce preferences, payment updates, etc.:
If you have a delivery expected to arrive on...

Finalize

box changes

before 12:00 pm...
Finalize

bread

orders before 12:00 pm...
Finalize

milk

orders before 12:00 pm...
Tuesday, Dec 29
Monday, Dec 28
Thursday, Dec 24 Nashoba & Iggy's
Thursday, Dec 24
Wednesday, Dec 30
Tuesday, Dec 29
Thursday, Dec 24 Iggy's
Thursday, Dec 24
Monday, Dec 28 Nashoba
Thursday, Dec 31
Wednesday, Dec 30
Monday, Dec 28 Iggy's
Monday, Dec 28
Tuesday, Dec 29 Nashoba
resuming week deadlines
If you have a delivery expected to arrive on...
Finalize

box changes

before 12:00 pm...
Finalize

bread

orders before 12:00 pm...
Finalize

milk

orders before 12:00 pm...
Tuesday, Jan 5

Monday, Jan 4

Thursday, Dec 31 Iggy's & Nashoba

Thursday, Dec 31

Wednesday, Jan 6

Tuesday, Jan 5

Thursday, Dec 31 Iggy's

Thursday, Dec 31

Monday, Jan 4 Nashoba

Thursday, Jan 7

Wednesday, Jan 6

Monday, Jan 4 Iggy's

Monday, Jan 4 Iggy's

Tuesday, Jan 5 Nashoba
SKIPPING A DELIVERY
Log in and skip deliveries on the Delivery Schedule/History tab. If you have any questions about deliveries during the week of Christmas or New Year's please reach out to Service@BostonOrganics.com