We're very excited to announce that we are going to begin offering local organic milk from Shaw Farm in Dracut, MA!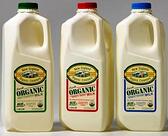 We have started with a pilot program for Wednesday deliveries before offering this service to all of our customers Things are looking good so far, and we hope to be able to offer milk deliveries to all customers soon! Stay tuned for updates.
If you are a Wednesday customer and would like to order milk, please see our milk policy below!
IMPORTANT- Boston Organics Milk Policy:
We strongly recommend that you leave out a cooler for us to put the milk in. An insulated bag or container will work as well.
Without a cooler, your delivery driver will not be able to leave your order.
If you need to update your delivery instructions in order to receive milk, please contact us.
If you want to send us a key to leave your milk inside, here are the instructions for providing us with a key.
The order deadline for Wednesday customers is Friday by 10:30am.
More about Shaw Farm and their organic milk: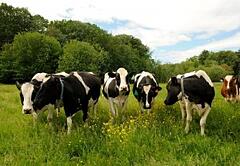 Since 1908, the Shaw family has been farming in the Merrimack Valley, growing feed for their cows, and producing milk for local customers. Warren Shaw just bought 2 new cows to help produce enough organic milk to keep up with the increasing demand!
Their organic herd has been raised by organic standards, which means no antibiotics or growth hormones have ever been used. In addition, their herd grazes on certified organic pasture (grass-fed) and is fed nutritionally balanced organic grain.
We sampled the product here in the office, and we think it's top notch!
How long does the milk last?
The milk that you receive on Wednesday is bottled that Monday. This milk has an approximate 14 day life span and should have no problem lasting if kept in a refrigerator.
Please don't hesitate to contact us with any questions, comments, or feedback! As always, thanks for your support!