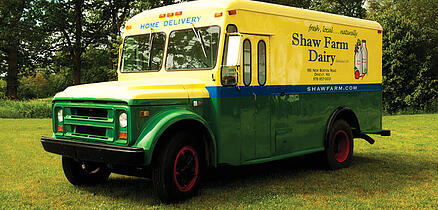 Visit 12/21/12
We try to make an effort to visit our local growers and vendors at least once a year, and a few weeks ago we took a trip out to our new organic milk supplier, Shaw Farm of Dracut, Massachusetts! Located just an hour north of our Charlestown office, this family-owned dairy farm is about as local as it gets for Boston. After tasting some of their legendary eggnog and other products, we're tempted to make our visits more frequent.
Shaw Farm operates their own farm store with fresh milk, ice cream, and even baked goods. The farm store is heated by geothermal energy – a renewable energy created by the heat found below the earth's surface. It not only helps with their energy bill, but it also reduces greenhouse gas emissions on the farm.
1. Story and history of Shaw Farm
Since 1908 Shaw Farm has been providing high quality local dairy products to the Merrimack Valley. Located in Dracut, MA, the farm offers fresh milk, ice cream, and many other local products. Their tagline – "if they say it's homemade, ask to see their cows" – reminds us of the true farm-to-table process and begs us to ask the question where does our food come from?
2. Why did they start the organic brand?
In 2007 Shaw Farm began to market its own "certified organic" milk products under the name New England Organic Creamery. Owner, Warren Shaw says changes in the marketplace driven by consumer demand for local organic milk have made this change important to the future of the farm. He saw that there was a demand for organic milk and realized that the transition to become certified organic was fairly simple since the farm already operated under many of the organic standards. Now they are the only certified organic milk producer in Massachusetts.
3. How are the cows fed?
Shaw Farm has 16 cows that make up the organic herd. The cows go out in the morning to graze on organic pasture and relax in the field during the day. The majority of the organic herd's diet consists of organic grass from their pasture and is supplemented with organic grains. Three generations of Shaw's take care of the 150 acres of nutrient rich orchard grasses that help give the cows their proper protein and fiber. Warren also explained that he has never used antibiotics, growth hormones or anything that might taint the organic milk or harm his cattle.
4. How does farm legislation affect the Shaw Farm business and operations?
The recent nine-month extension of the federal farm bill allowed Shaw Farm to avoid an immediate rise in conventional milk prices. We asked Warren how the farm bill and other dairy industry legislation might affect his business, and he explained that federal milk subsidies and regulations only impact dairy farms that belong to co-ops, not independent dairy farmers like himself.
Because of Shaw Farm's proximity to the city and densely concentrated population, they have direct access to a large customer base and are able to provide dairy directly to customers and retailers, such as Boston Organics. Because of our collective support, Shaw Farm will be able to thrive, operate, and continue their environmental stewardship of the land that has been in the Shaw family for several generations.