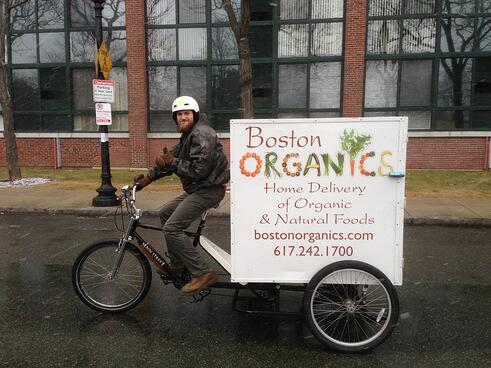 We're happy to introduce one of the newest members of the Boston Organics team, Andy Bernard. Andy is our cargo bike rider, a position that comes with inherent challenges such as break downs, rough New England weather, and physical exertion, all of which Andy has met head-on for the sake of vegetables! This picture was taken in the Charlestown Ship Yard the morning before Storm Nemo hit Boston with 30 inches of snow. Needless to say, Andy isn't afraid to get dirty!
We had a chance to catch up with this dedicated team member to find out a little about him.
Where are you from?
"I grew up in New Durham, NH, but moved to Conway, NH, to work on a farm before heading to Boston. I now live in Dorchester."
Where do your interests in food and bicycling stem from?
"My interest in food came from working with my mother in our family garden and from looking up to my grandfather who was a blueberry farmer. Those experiences led me to do some farming on the Earle Family Farm in Conway, NH before coming to Boston. On the farm I helped raise livestock, managed forests for maple syrup season, maintained fruit orchards, and helped build water retention tools, among other things."
"My interest in bicycling comes from my childhood; rambling around on my bike gave me a sense of freedom from living in the sticks. I also find the philosophy behind bicycles and energy efficiency rewarding. The ability to power it with your own energy and not use up any fuel or electricity is great."
Tell us about your first week working at Boston Organics!

"I started with Boston Organics during that cold snap that kept the temperature below 20 degrees in Boston. On my first day riding the bike, it was around 10 degrees outside, without factoring in the wind chill. I figured after that it couldn't get much worse."
(In weather like that, most people would have put on the brakes. We think Andy might be a polar bear.)
When and where can customers see you riding around on the cargo bike?
"Tuesdays I am in downtown Boston and around the Financial District, Wednesday is the North End and Beacon Hill area, and Friday I am in Charlestown."
What's the coolest thing that's happened to you on the road so far?
"The first week that I was on my own (not training with someone) I got to a steep hill in Charlestown. The cargo bike was about half empty and I was feeling pretty cocky so I tried gunning it up the hill. When I got close to the top I was in the granny gear with my legs going 2000 miles an hour (an exaggeration), but the bike wasn't going anywhere. I was feeling burnt out but then all of a sudden the weight of the cargo got lighter and I made it up to the top on my last push."
"I turned around in amazement at my feat, only to see a guy pop out behind the bike and run back down the hill! I guess he felt bad and pushed me up those last couple of feet when I needed it the most."
What's your favorite thing about working at Boston Organics?
"It's got a good community. Everyone is easy to talk to and get along with. They make an effort for employees, allowing us to take fresh produce home on Fridays. I am also really into the closed cycle - recycling, composting, and donating damaged produce. It's good to see."
We are thrilled to have Andy join our team as our fearless cargo bike delivery driver! If you see him around Boston or Charlestown peddling produce, be sure to say hello (or give him a push up a hill).