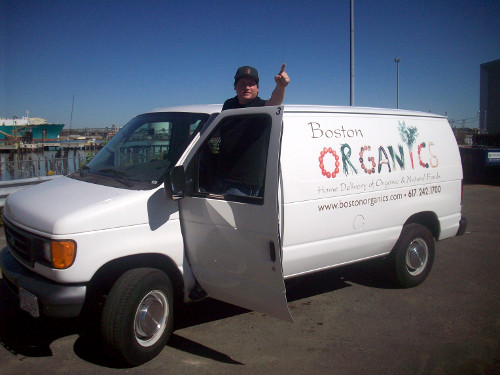 We have some staff here at Boston Organics who have been with us for a long time. Tom, our Fleet Manager, is one of them. He just celebrated his 5th year anniversary with the company. Congrats to Tom! As Fleet Manager, Tom keeps our drivers headed in the right direction and your produce dropped off at the right stoop, and he does it all with a big smile.
We caught up with Tommy "The Heirloom" Tomato to get the low down.
Where are you from?
"I grew up in Portland, Maine and moved to Boston in 2002 for college."
How long have you worked here and how did you get started at Boston Organics?
"I've been with Boston Organics since 2008. I was hired as a driver and drove for 2 years before getting the Fleet Manager position. While I was a driver I got promoted to a supervisor role. I was accountable for making sure all of the drivers were back, locking up the warehouse, and assisting the Fleet Manager at the time. It was a good way to get to know the Fleet Manager's role, and it prepared me for taking over the position in 2010."
Where does your interest in organic food and the local food system come from?
"My mother and grandfather had veggie gardens in Maine, so I grew up growing food. After high school I worked at an organic butcher shop in the old Portland Public Market. The public market was where local farmers would come to sell their produce. It had a really great local vibe. I eventually moved from the butcher to the produce section, where I got really familiar with seasonal produce and met some of the local farmers."
What are your favorite things about working here?
"It's a great environment to work in and I really enjoy everyone I work with. I genuinely enjoy using maps and doing logistics, so it works out that I'm the Fleet Manager."
"Another one of my favorite things is that I've been able to do art. I studied fine art at the Art Institute of Boston and have been able to help out the marketing crew with design projects. It's been a great outlet and some of my first paid illustration work."
Tom has illustrated a bunch of our promotional materials, including our Coloring Book and 10th Anniversary Party poster (see below). We're lucky to have such a great artist in house!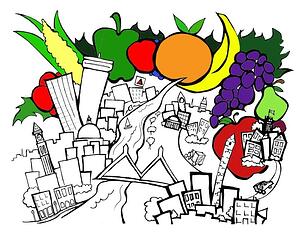 What are some of the things that you've been involved with to reduce our carbon emissions on the road? Do you think the van fleet has a negative impact?
"We definitely have an environmental impact because we are using gasoline vehicles. However, we are delivering 80 deliveries per vehicle, so that's 650 people a day - or more - who don't have to get in their cars and drive to the store. I think we definitely cut some overall emissions with our operations model. We don't idle our vans on stops and we use efficient routing and mapping to maximize efficiency and minimize our carbon emissions."
"We also run a cargo bike 4 out of 5 delivery days, which is great. I'm working on getting a bigger cargo bike fleet to service more of the Boston area. A bike fleet would be the best - no gas and no parking tickets!"
As a sustainable company, what changes would you ideally like to see in the future for the Boston Organics delivery fleet?
"Going forward, it would be great to have an all hybrid delivery fleet. Right now, there aren't enough widespread hybrid vehicles on the market for commercial use. Europe is really leading the way with this. I'd love to see the U.S. follow. If there was a better domestic hybrid option, we'd be on it!"
What's one of the wackiest things you've seen working at Boston Organics?
"When we remodeled our warehouse for the first time in 2011, we were allowed to look for materials at a property our landlord owned in Winthrop. It was an old hospital that had closed and was basically falling apart. Myself and two of my co-workers headed over with some vans to see if there was anything we could salvage. We got some lockers, cubicles, a counter, and some windows. We carried these massive lockers down four flights of stairs to get them out. The place had no electricity and had that creepy deserted feeling. It was a trip to walk through there. Our co-worker was convinced the place was haunted, but it was really just us messing with him. He still talks about it today."