An apple always tastes best when picked straight from the tree. There's nothing like clambering up an apple tree in the cool New England fall air, grabbing that perfect apple you saw from the ground, and taking a well earned bite!
If you grew up in New England then you're probably familiar with this feeling, but if you're not, we want to help you become a regular Johnny Appleseed!
This fall is a great time to go out into the great outdoors and embrace the New England tradition of apple picking.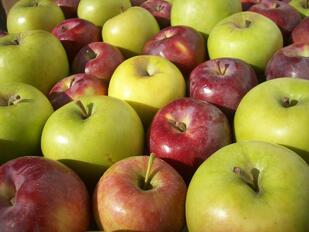 Organic apple orchards can be tricky to find in New England due to the challenges growers face to combat harsh weather and persistent pests. Many apple producers rely on synthetic pesticides to manage their orchards. This is why organic apples are hard to find and why conventional apples are consistently on the top of the Dirty Dozen list.
We've put together a list of local pick-your-own apple orchards for you to try out. You can even visit the orchard of one of our main local apple suppliers, Dwight Miller Orchards in Vermont!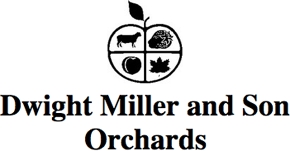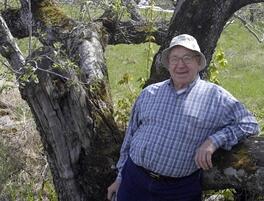 During the fall and winter, we source all of our local apples from Dwight Miller & Son Orchards in East Dummerston, Vermont. The Millers' orchard is one of the largest organic orchards in the Northeast. They offer pick-your-own apple hours, a farm stand full of delicious farm made products, and horse-drawn rides to a view that overlooks the mighty Connecticut River. Stop by the Millers' orchard this season and tell them we sent you!
New England Organic Apple Orchards:

Massachusetts
Bear Swamp Orchard (Certified Organic)
Steve Gougeon
1209 B Hawley Road
Ashfield, MA 01330
(413) 625-2849
bearswamporchard.com
Old Frog Pond Farm (Certified Organic)
Linda Hoffman
38 Eldridge Road
Harvard, MA 01451
(978) 456-9616
oldfrogpondfarm.com
Rhode Island
Elwood Orchard (Certified Organic)
58 Snake Hill Road
N. Scituate, RI 02857
(401) 949-0390
www.elwoodorchard.com

Vermont
Dwight Miller & Son Orchards (Certified Organic)
581 Miller Road
East Dummerston, VT 05346
(802) 254-9635
Seasonal/Fall hours starting late August. 9 am - 5 pm daily.
Maine
Raven Hill Orchard (Certified Organic)
255 Ossippee Hill Road
E. Waterboro, ME 04030
(877) 213-1672
www.ravenhillorchard.com
Did we miss any of your favorites? Let us know where you like to go apple picking!
For more information about apple nutrition, storage, and recipes, visit our Apple Page!