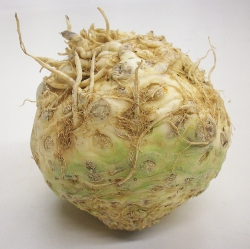 This is the time of the year when eccentric-looking root veggies abound. Red Fire Farm is bringing us a big harvest of organic celeriac, and we're excited to have this quirky root vegetable going out in a number of boxes this week.
You'll fall in love with celeriac, this Valentine's Day. But be careful, there are many things that you can say to your celeriac that we recommend you don't say to your Valentine. For example, "Your rough and hairy exterior makes you unappealing at first glance, and I'm intimidated to have you in my kitchen." Seriously, don't say that to your Valentine. Also, don't be intimidated.
Instead, read the newsletter and become an expert on celeriac. Also learn about local basil, crisp watermelon radishes, and the Fair Trade chocolate hearts that you can add to your boxes this week!