We know how to patch a flat tire and how to change brake pads. We know how to put on a new chain, but what do you do when your cargo bike literally snaps in half?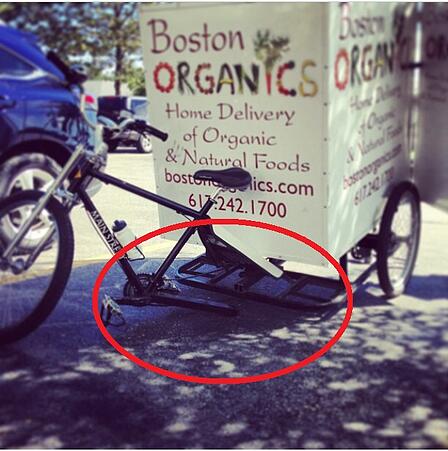 The frame snapped in half
This year's winter weather has been rough, but our dedicated cargo bike driver, Graham, has pedaled through wind, sleet, flurries, squalls, ice, and snow. Though the weather could not break his swashbuckling spirit, the elements slowly corroded through the cargo bike's steel frame. Below, Graham retells the story of the cargo bike's collapse.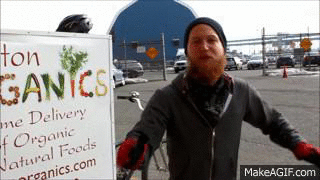 "Wham! It just broke."
Our cargo bike was custom-built for Boston Organics in 2009 and it has survived the likes of Irene, Sandy, and Nemo. A local pedicab expert and longtime Boston Organics customer has helped us with past repairs, but this job required a different set of skills and some heavy-duty tools.
Not sure what else to do, we brought the broken bike to our friends at Webster Auto Body in Somerville. Jerry Siegel and his brothers have been repairing our vans since we started delivering produce in 2002, but their experience with auto body repair and metalwork goes back much farther than that.

Webster Auto Body fixes it all
When Jerry's great grandfather, Joseph Alexander Siegel, opened a blacksmith shop on Webster Street (Somerville) in 1902, the introduction of the Ford Model T was still six years away.
As cars replaced carriages, the Siegel family adapted. They learned the latest technologies and auto repair techniques while upholding their high standard for quality. Jerry said that he had never repaired a cargo bike before, but we trusted his skills and we knew he wouldn't steer us wrong.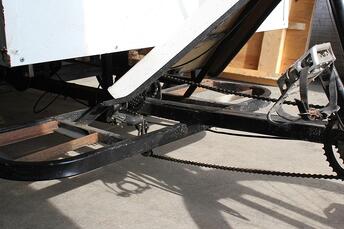 Look at that solid metalwork
After only a couple of hours in the shop, we went to check on our cargo bike and found it was as good as new! Webster Auto Body welded the frame back together and taught us how to avoid future corrosion.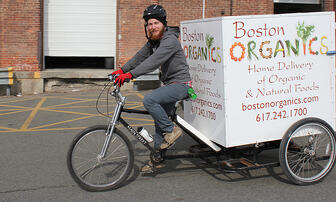 Our cargo bike is now ready to ride and Graham is back on the road. You might see him making deliveries in Charlestown tomorrow!
Cars may not go the way of horse-drawn carriages any time soon, but we may have discovered a new niche for Webster Auto Body: cargo bike repair.