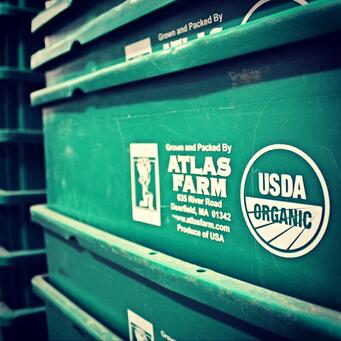 The moment we've all been waiting for is finally here. We can barely contain our excitement – by the end of this week you'll be enjoying your first harvest of the year from Atlas Farm!
This week, Dogma Box customers will find lots of local leafy greens in their box including red leaf lettuce, kale, chard, and arugula! Even if you're not a Dogma Box customer, there are still plenty of local leafy greens to go around. Local organic pea shoots from Jonathan's Organic (Rochester, MA) and fresh-cut organic basil from Happy Valley Organics (Whately, MA) can be found in almost every box along with Atlas Farm (Deerfield, MA) lettuce and kale.
Read this week's newsletter to see what else you might find in this week's box and for some great recipe ideas too! You'll also find information about our ongoing Summer Rewards Program including new prizes for the month of June.