Every Boston Organics customer who receives a delivery in June is automatically entered to win one of this month's two Summer Rewards Prizes: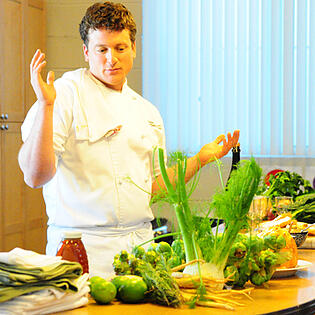 Earn bonus points and increase your chances of winning by encouraging your friends to sign up for Boston Organics!
You'll also both get 10% off your next delivery.
Learn To Cook In Your Own Kitchen!
If you win this month's Summer Rewards Prize Drawing, you and up to five friends could have your own personal cooking experience with Chef Ryan Redmond! As a professionally trained chef and a longtime educator, Ryan Redmond brings his unique skills and engaged teaching style to a one-of-a-kind interactive dinner party experience.
If you win, Chef Ryan will work with you to design a menu using fresh Boston Organics ingredients that you and your guests are sure to enjoy. Then, Chef Ryan will teach you how to prepare a gourmet meal from the comfort of your own kitchen!

About Field to Fork and Chef Ryan Redmond
Chef Ryan Redmond is the man behind Field to Fork, a private chef business committed to real food, culinary instruction, and utilizing the richness of local food producers.
Chef Ryan holds a Professional Chef Degree from the Cambridge School of Culinary Arts, from which he graduated with high honors. In addition to experience cooking in the restaurant industry in the Boston area - including time at Michael Schlow's Via Matta and a guest chef appearance at Peter McCarthy's EVOO - he has taught cooking to children and adults and occasionally writes about food, culture and society for his blog Make Lunch Not War.
Visit Field to Fork's website to learn more about Chef Ryan Redmond and his interactive dinner parties.