Boston Organics works with the best organic food producers in New England to bring all of your weekly grocery needs directly to your door.
In addition to a box of fresh organic fruits and vegetables, our customers also enjoy loaves of freshly baked bread from Iggy's and Nashoba Brook Bakery, rich and flavorful eggs from Pete & Gerry's, wholesome organic milk from Shaw Farm, and a variety of delicious cheeses from Neighborly Farms of Vermont.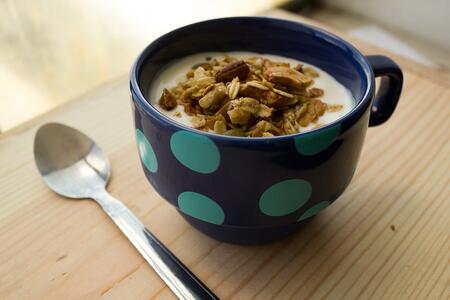 By now, you probably already know how excited we are to start offering organic yogurt to our loyal customers who have been looking forward to this possibility for several years.
As of last week, you can now order yogurt from trusted and familiar brands like Stonyfield Farm and Wallaby Organic.
We are also delighted by our new working relationship with one of New England's finest organic yogurt producers: Butterworks Farm.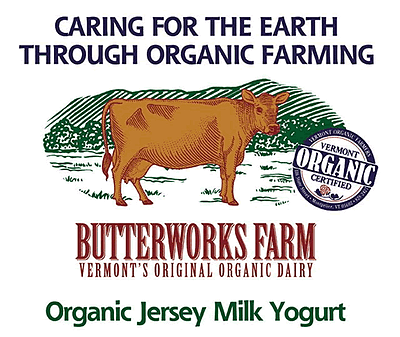 Responsible Farming Makes Delicious Yogurt
Inspired homesteaders Jack and Anne Lazor started Butterworks Farm in 1979 with the intention of raising their children in a place that respected both the land and the animals around them.
The Lazors now grow almost all of their own food on their small family farm in Westfield, Vermont. In the warmer months, their herd of Jersey cows grazes on the farm's open pastures, and in the winter they're fed organic grains and grasses that are also grown on the farm.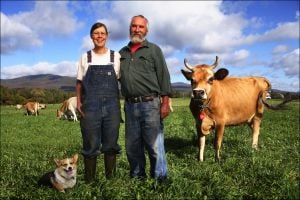 All 85 cows fit comfortably into the farm's enormous solar barn where large windows and organic bedding (refreshed twice daily) keeps them warm and comfortable through the cold New England winter.
It's no wonder that the Cornucopia Institute has awarded Butterworks Farm an outstanding 5/5 rating, ranking it as one of the the best dairies in the country!
Jersey cows are smaller and leaner than the traditional Holstein dairy cattle, but their milk has more protein and consequently more flavor. Raised entirely on an organic diet, the milk from Jack and Anne's cows is incredibly delicious.
After tasting their yogurt and hearing their story, we knew that we wanted to share Butterworks Farm with the whole Boston Organics community.
Four Fantastic Flavors
Butterworks Farm makes four fantastic flavors of organic yogurt with the milk from their Jersey cows: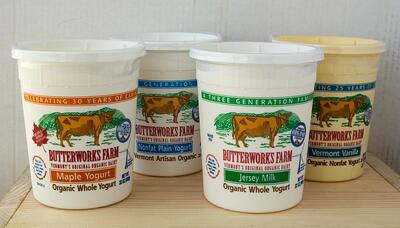 The Whole Milk Plain Organic Yogurt is the way that yogurt was meant to be made. Always made with live cultures and untainted with antibiotics or hormones, the high quality of Butterworks' Jersey cow milk really shines through in this thick, creamy yogurt.
The Nonfat Plain Organic Yogurt by Butterworks tastes richer than any other nonfat yogurt that we've tried. It's a healthy addition to Mediterranean cooking, and a simple touch of honey or fresh fruit makes for a particularly healthy breakfast!
The Nonfat Vanilla Organic Yogurt is injected with pure vanilla and gently sweetened with a splash of maple syrup. Add a spoonful of this yogurt to your smoothies for a little sip of heaven.
The Whole Milk Maple Organic Yogurt will make a yogurt lover out of kids and adults alike. Butterworks adds pure Vermont maple syrup to their Jersey cow milk and live cultures for a truly delicious yogurt.
We hope you'll join us in welcoming Jack and Anne Lazor into the Boston Organics community because we're incredibly excited to share Butterworks Farm organic yogurt with you!

Try Butterworks Yogurt With Your Next Delivery!