Our Dogma Box includes organic fruits and vegetables sourced as close to Boston as possible throughout the year. Similar to a CSA or farm share, this box is filled with the best organic produce from local and regional farms each week.
We asked Doug at Happy Valley Organics to keep the greens attached to the local organic beets for our Dogma Box customers, giving you some bonus leafy greens to enjoy this week! If you're able to resist cooking them up on the spot, it's best to separate the greens from the bulbous root and store them in a plastic bag in your fridge.
When you saute the beet greens according to this spectacular recipe for Roasted Beets & Sauteed Greens with Hazelnuts and Goat Cheese, you can leave the stems intact. Not only is it delicious AND nutritious, but you're also using every part of the plant and eliminating food waste.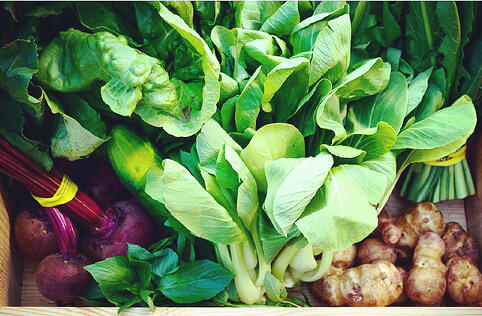 This week's Dogma Box contains:
This week's Dogma Box is jam packed with nutrients. For example, did you know that one cup of cooked bok choy provides more than 100% of your recommended daily intake of vitamin A and close to two-thirds of your daily vitamin C?!