Our Dogma Box includes organic fruits and vegetables sourced as close to Boston as possible throughout the year. Similar to a CSA or farm share, this box is filled with the best organic produce from local and regional farms each week.
This week's Dogma Box is so full of gorgeous summer vegetables that you can almost sense the jealousy as the bright yellow squash and lanky fennel stalks are forced to compete with alien-like kohlrabi to be the most exciting veggie in your kitchen.
Just be sure you don't overlook the spring onions or bunched beets, whose greens can be sauteed alongside the Atlas Farm chard or kale for a blast of extra flavor and nutrients.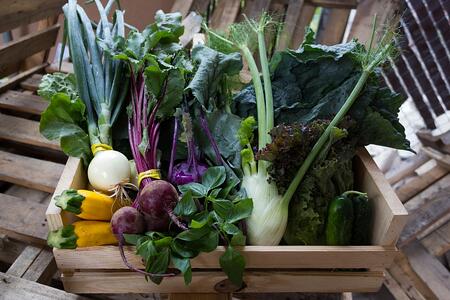 This week's Dogma Box contains:
The purple kohlrabi in this week's box comes from our newest local farm partner, Lucky Field Organics. Starting with just one acre of land in 2003, Eileen and Weston Lant now cultivate 12 acres of organic herbs, flowers, and vegetables on their farm in Rochester, MA!