The Boston Bike-Friendly Business Bronze Award
Promoting a healthy lifestyle in a mindful and sustainable way is a major part of Boston Organics' mission as a company. We do that primarily by making it easy for regular people to eat fresh, nutritious food every day, but we also encourage all members of the Boston Organics community to build and sustain positive, healthy habits.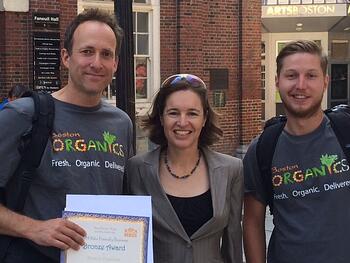 Jeff Barry (Boston Organics Founder & President), Nicole Freedman (Director of Boston Bikes), Graham Ward (Boston Organics Cargo Bike Delivery Coordinator)
This morning, we were recognized by Mayor Marty Walsh and Boston Bikes as a Bike Friendly Business at a small ceremony outside of Faneuil Hall. This award was given to a select group of local companies who encourage their employees to bike to work by making their office culture and environment more bike-friendly.
Bike-to-Work
When our employees bike to work, we're inspired by the fact that they are getting healthy exercise while improving their overall productivity. Studies have shown that exercise before work raises an employee's productivity by an average of 15% and cyclists take fewer days off of work due to illness! We're also encouraged by the environmental benefit of having fewer cars on the road.
We provide our employees with secure, covered bike parking inside our warehouse, and we have a small collection of bike tools to help fix a faulty brake or patch a flat tire. Showers and lockers are also available in our building, so employees can be comfortable after getting in a short morning workout.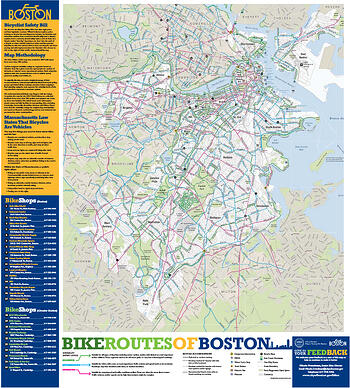 Important bike safety information is displayed in our break room and we offer bike maps to help employees find the safest routes to and from our office. Biking is the primary form of daily transportation for several of our employees, and our progressive transit subsidy program makes the MBTA an affordable alternative when the roads become too icy for them to ride.
But, as always, we know that there is more that we can do to promote healthy and environmentally sustainable transportation. This is the first time that our efforts have been recognized by Boston Bikes, but next year we're going to shoot for the coveted "Gold Award". The standards for this selective award provide a good guideline for us as we consistently improve our bike-friendly policies. We will continue to encourage our employees to use their bikes and hope that our efforts will be recognized again next year.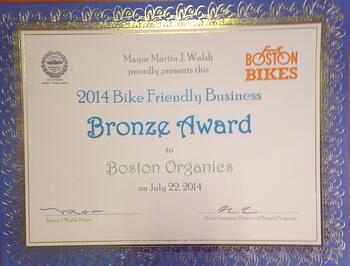 Currently, we are in the process of acquiring a second cargo-bike which will help us take a van off the road and double the number of deliveries that we make by bike! We've been working with Main Street Pedicabs to design a sleek, custom bike that we can load up with our reusable green bins.
Stay tuned to our blog and social media sites as we pedal onward towards an even more bike-friendly Boston!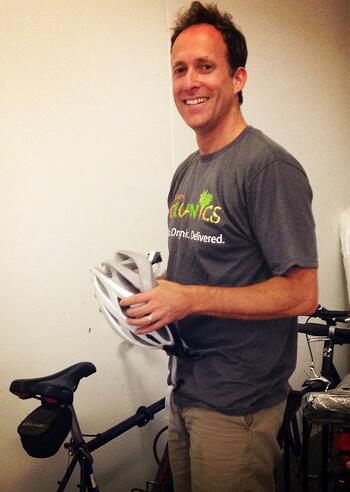 Jeff Barry (Founder & President) locking up his bike in the Boston Organics warehouse