Our Dogma Box includes organic fruits and vegetables sourced as close to Boston as possible throughout the year. Similar to a CSA or farm share, this box is filled with the best organic produce from local and regional farms each week.
It was so hard to resist eating all of the local organic summer produce in this week's Dogma Box before snapping this photo. The fresh thyme smells amazing, the cucumbers are crunchy, the corn is sweet, and the blueberries...oh the blueberries.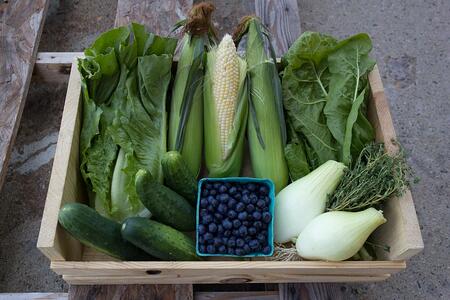 This week's Dogma Box contains:
You just can't beat the experience of eating fresh local blueberries. If you already know that this pint will disappear before your family gets their hands on it, you can order an extra pint to share.
Don't forget the local organic yogurt from Butterworks Farm!