Our Dogma Box includes organic fruits and vegetables sourced as close to Boston as possible throughout the year. Similar to a CSA or farm share, this box is filled with the best organic produce from local and regional farms each week.
Is there anything more exciting than farm fresh organic produce in the summer? There are so many delicious fruits and veggies in this week's Dogma Box, it's hard to decide what to eat first! The organic corn from Hadley, Massachusetts is sweet enough to eat raw - straight off the cob. And those local cucumbers, tomatoes, bell peppers, and lettuce are just begging to be made into a crunchy summer salad.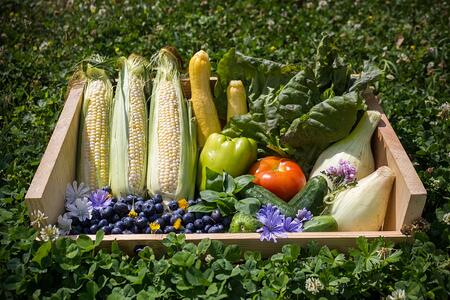 This week's Dogma Box contains:
Grab your zucchini, an ear of corn, some peppers and onions - it's time to whip up one of our favorite summer recipes: Grilled Zucchini Tacos. Don't forget to order a bag of Mi Tierra Organic Tortillas made with organic, non-GMO corn grown right here in Massachusetts!