Our Local Dogma Box includes organic fruits and vegetables sourced as close to Boston as possible throughout the year. Similar to a CSA or farm share, this box is filled with the best organic produce from local and regional farms and brought right to your door each week.
It's extremely difficult to grow organic melons in New England, so the fact that this week's Dogma Box customers will enjoy fresh organic cantaloupe from Picadilly Farm is a rare treat!
Cantaloupes thrive in warm, nutrient dense soil and require regular watering and weeding throughout the spring and summer months. Picadilly Farm takes particularly great care of their soil, which helps them grow super sweet melons packed with lots of vitamin A and vitamin C.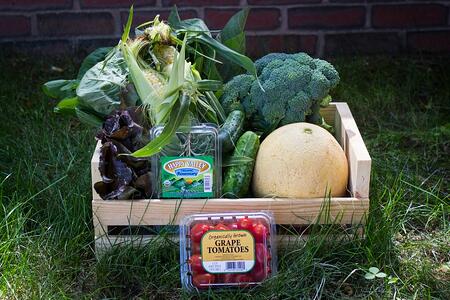 This week's Dogma Box contains:
Organic tomato growers have had a difficult time this year battling a major outbreak of late blight in New England, so we're particularly grateful for the grape tomatoes that Joe Czajkowski grew for us on his farm in Hadley, MA.
Vegetarians can enjoy our classic recipe for Roasted Tomato, Basil, and Feta Pasta while omnivores might appreciate the blend of summer flavors in this recipe for Honey-Rosemary Chicken with Grape Tomatoes.
Enjoy your organic cooking, and check back next week to see what's fresh and in season with our Local Dogma Box!