Our Local Dogma Box includes organic fruits and vegetables sourced as close to Boston as possible throughout the year. Similar to a CSA or farm share, this box is filled with the best organic produce from local and regional farms and brought right to your door each week.
Labor Day has come and gone, but our summer produce is still growing strong. This week's Dogma Box features plump tomatoes from our newest organic farm partner, Oxen Hill Farm.
There's also plenty of local corn, cucumbers, lettuce, and collard greens for you to enjoy—not to mention another helping of organic wild blueberries from Downeast Maine!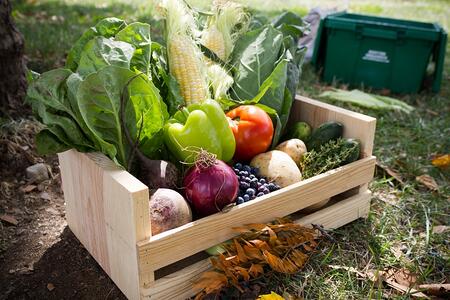 This week's Dogma Box contains:
This week's Dogma Box recipe was tested and approved by our summer intern, Brittany Roberts. Stuffed Bell Pepper with Thyme is one of our new favorite summer recipes because you're able to use so many fresh ingredients including corn, onion, tomatoes, and thyme.
Vegetarians looking for extra protein can substitute quinoa for the ground beef without changing the texture of the stuffing too much.
It may be hard to believe when it's still 85 degrees outside, but the seasons are starting to change. Check back each week to see what's fresh and in season with the Boston Organics Local Dogma Box!