As the last of the summer harvest trickles in, our farmers are preparing for the first big frost. Row covers and hoop houses will help our New England farmers extend the local growing season into late autumn, and we'll continue to source our organic fruits and vegetables from local farms for as long as possible.
The organic produce in this week's boxes is a cornucopia of fresh fall fruits and vegetables! Lakeside Organics, our primary sweet corn and delicata squash grower, has a wonderful harvest of acorn squash coming from their fields in Hadley, MA.
Acorn squash can be roasted in its shell, allowing you to easily scoop out the sweet, tender flesh. If you have a few extra organic apples from Dwight Miller Orchards, you might want to try this Boston Organics Meatless Monday recipe for Acorn Squash Stuffed with Rice, Apples, and Chevre.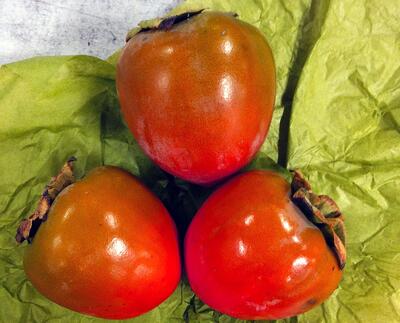 Fruit box customers will find a special treat in your box this week, organic hachiya persimmons from California!
Unlike the more common fuyu variety, hachiya persimmons should not be eaten until they are supremely ripe. Their high tannin content makes them mouth-puckeringly tart until they've softened completely.
In this week's newsletter you'll learn how to tell when your hachiya persimmon is ready to eat and get some tasty recipes for your favorite fall produce! You'll also read about Fair Trade and Non-GMO month and find out about two upcoming community food events that you don't want to miss.