Our Local Dogma Box includes organic fruits and vegetables sourced as close to Boston as possible throughout the year. Similar to a CSA or farm share, this box is filled with the best organic produce from local and regional farms and brought right to your door each week.
As warm summer nights give way to crisp autumn evenings, our New England farmers are taking steps to lengthen the growing season. Though tomatoes and zucchini may have gone the way of the fireflies, Atlas Farm continues to grow some wonderful leafy greens for the Dogma Box.
Fresh mint from Happy Valley Organic's solar powered greenhouses makes a delicious tea for those chilly autumn nights, and crunchy Macs from Vermont are a sure sign that fall is here to stay.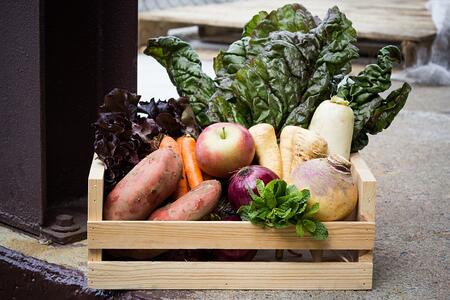 This week's Dogma Box contains:
We have a new recipe for our Dogma Box customers to try this week. Grab your sweet potatoes, apples, and rainbow chard...and a stick of butter to cook it all in. If you roast the sweet potatoes while you saute the apples and chard, you'll wind up with a delicious vegetarian meal in only 30 minutes!