Our Local Dogma Box includes organic fruits and vegetables sourced as close to Boston as possible throughout the year. Similar to a CSA or farm share, this box is filled with the best organic produce from local and regional farms and brought right to your door each week.
There is so much amazing organic produce in this week's Local Dogma Box that it's hard to know where to begin. Atlas Farm has an incredible fall harvest of leafy greens and root veggies, and the fresh basil from Happy Valley Organics is out of this world.
But the real showstoppers are the local organic cranberries from Jonathan's Sprouts (formerly Joanthan's Organic). Harvested from a network of small organic bogs on Cape Cod, these are the freshest cranberries you can find.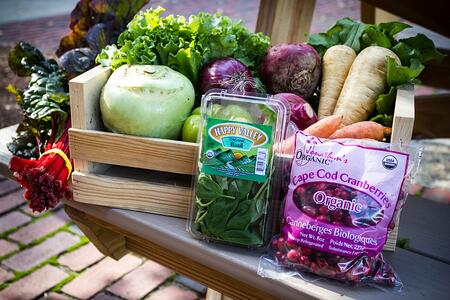 This week's Dogma Box contains:
Not familiar with that strange bulbous root in your box? That's probably kohlrabi, a descendant of wild cabbage and a very versatile vegetable. Here are 5 ways to cook kohlrabi, plus a special recipe for this week's Dogma Box customers: Stir-Fried Rice Noodles with Kohlrabi and Basil.