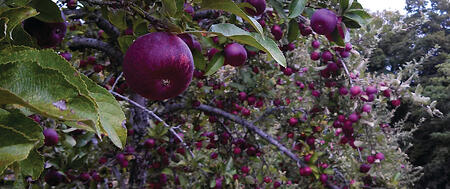 Trees of Knowledge
Nobody knows more about growing organic apples than Read Miller. Read was raised in the fields of his ancestors, between the apple trees of Dwight Miller and Son Orchards. He's the latest in a long line of Millers that have been farming in Dummerston since before Vermont was a state.
The Millers were always prudent in their use of chemical inputs, but when Read went to China in the mid-1990s to consult on agricultural practices, he admired how rural fruit farmers managed their crops with traditional, pre-industrial practices. When Read returned, he decided to transition the farm's nearly 100 acres of apple orchards into certified organic production.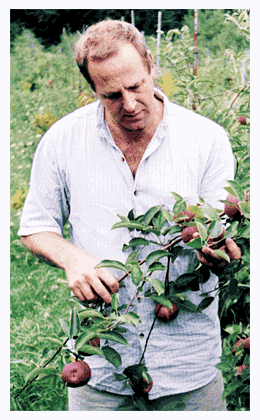 Read has run thousands of experiments on his family's apple orchard in the 19 years since the land became certified organic, helping the Millers create an unparalleled strategy for growing apples in the northeast without synthetic herbicides and pesticides.
"We have to be very proactive in terms of how we address potential problems," Read said, "It's not just about what we do, but how we do it."
Every year, Read combats coddling moths and apple maggots, and he must recognize precisely the right time to begin his annual offensive against apple scab (just as it starts to germinate). But perhaps most importantly, Read knows exactly what needs to be done to maintain his orchard's fertile soil and how to grow a dazzling array of crisp, flavorful apples.
Organic Apple Growing Is Far From Peachy
Farming — particularly organic farming — is an inherently risky venture. It requires a large upfront investment at the beginning of every season, bankrolled on the hope that a generous harvest and fair market prices will meet you at the other end. His family has worked the same land for eight generations, but Read soberly explained that he's had to put the whole farm on the line almost every year.
The mercurial New England weather and a changing climate do not make things any easier. Over the last few years, harsh freezes and rising moisture levels have set and reset historic records, leading to rampant outbreaks of botanic diseases and difficulty pollinating crops.
All of these setbacks contribute to higher costs that are reluctantly reflected in higher prices. Still, Read dreams of a day when he can grow organic fruit at a price that every family can afford.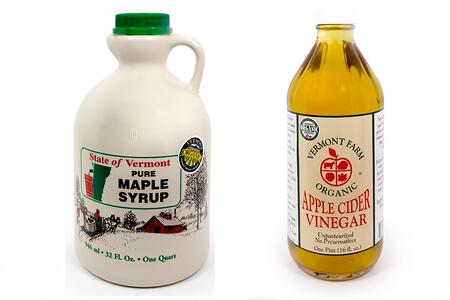 Exploring New Avenues
A few years ago, with the orchard in economic jeopardy, the Millers started creating their own value-added products. They began creating their own maple syrup and apple cider vinegar, which we now proudly sell as add-ons.
"Without the cider mill, we would quit right now," Read explained. Some years, only 20% of his crop meets his high standards to sell as an eating apple. Meanwhile, the less aesthetically pleasing fruit can still be used to make delicious vinegar.
Another way that Read mitigates the challenges of organic farming is through diversification. In addition to the more than a dozen apple varieties that they've grown for generations, Dwight Miller and Son Orchards also grows peaches, pears, blueberries, strawberries, and leafy greens.
Supporting Local Farmers
Working with a food hub like Boston Organics is another way that farmers like Read Miller address the uncertainty inherent in organic farming. As Read prunes his trees in the spring, he knows that we'll be there to purchase his apples after the harvest in the fall.
Read knows that our customers are smart, conscientious eaters who appreciate the effort and energy that goes into growing delicious, local, organic fruit. "Boston Organics has been very good for us," Read said, "We seem to understand each other."