Our Local Dogma Box includes organic fruits and vegetables sourced as close to Boston as possible throughout the year. Similar to a CSA or farm share, this box is filled with the best organic produce from local and regional farms and brought right to your door each week.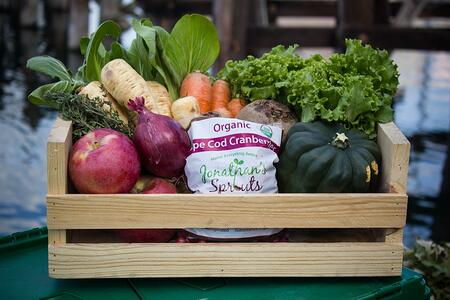 The organic cranberry growers on Cape Cod have struggled to respond to this fall's particularly difficult weather patterns, but this week you'll find beautiful organic cranberries in your box -- packaged in Jonathan's Sprouts' elegant new bags!
This week's Dogma Box contains:

(Click links for storage tips and recipe ideas)
Beets – Atlas Farm (S. Deerfield, MA)
Bok Choy – Atlas Farm (S. Deerfield, MA)
Carrots – Atlas Farm (S. Deerfield, MA)
Lettuce – Atlas Farm (S. Deerfield, MA)
Parsnips – Atlas Farm (S. Deerfield, MA)
Thyme – Happy Valley Organics (Whately, MA)
Cranberries – Jonathan's Sprouts (Rochester, MA)
Acorn Squash – Nature's Circle Farm (New Limerick, ME)
Onions – Porter Farms (Elba, NY)
McIntosh Apples – Dwight Miller Orchards (E. Dummerston, VT)
Our Slightly Spicy Beet and Apple Salad is the perfect recipe for this week's Local Dogma Box.
The dressing, made with apple-cider vinegar, Dijon mustard, and horseradish, complements the natural flavors of Atlas Farm's roasted beets. Throw in a few sprigs of fresh organic thyme into the mix to bring it all together!