12/1-12/5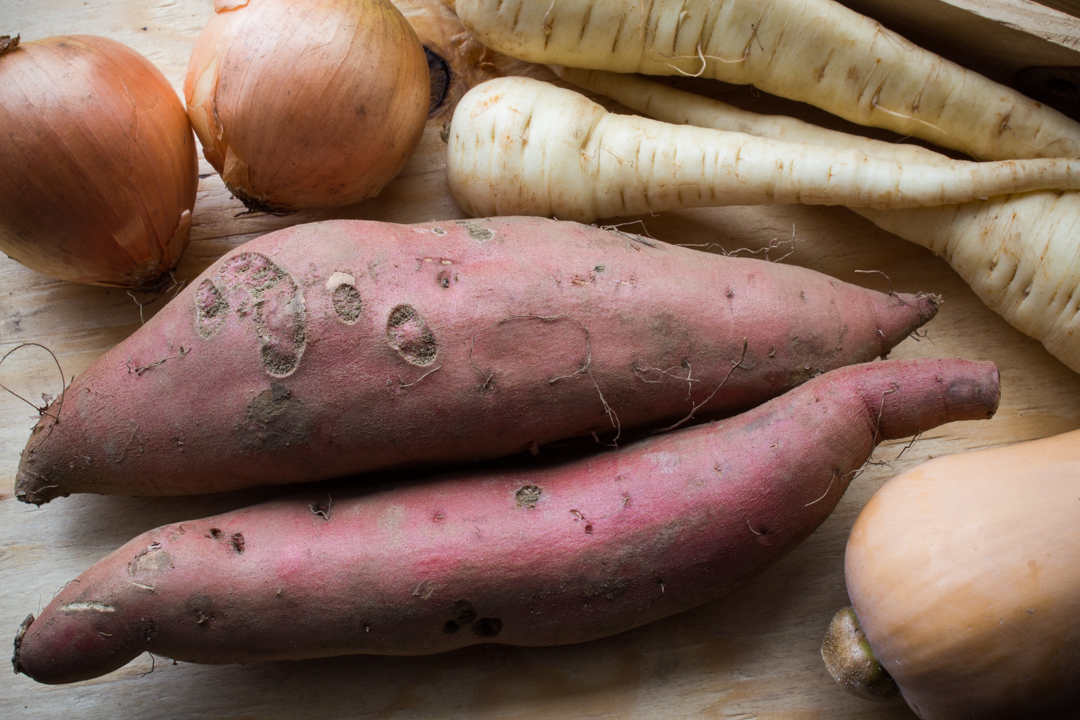 As expected, the pre-Thanksgiving flurries precipitated the end of the growing season for many of our local farmers.
To maintain our wide assortment of organic fruits and veggies through the winter, we work with several organic farms outside of New England. We'll continue to source locally as much as possible, and all the produce in your box will always be USDA certified organic.
In the coming weeks, Winter Moon Farm will bring us their glorious selection of root vegetables—everything from rainbow carrots to purple top turnips. This week, however, we have one of the last big harvests from Atlas Farm!
The watermelon radishes from Atlas Farm may look ordinary from the outside, but cut one of these guys open and you'll see how they got their name. These beautiful radishes are as flavorful as they are colorful, and they are a great addition to salads and slaws.
The carnival squash from Deep Root Organic Coop is delicious and extremely versatile. Cook it as you would any other winter squash, or try this fun recipe for Baked Eggs in Carnival Squash Rings.
---
What's In Season This Week
Atlas Farm
(S. Deerfield, MA)
Beets
Red Cabbage
Carrots
Celeriac
Parsnips
Potatoes
Sweet Potatoes
Watermelon Radishes
Dwight Miller Orchards
(E. Dummerston, VT)
Empire Apples
Deep Root Organic Coop
(Johnson, VT)
Carnival Squash
Daikon Radishes
Rutabagas
Turnips
Happy Valley Organics
(Whately, MA)
Rosemary
Porter Farm
(Elba, NY)
Onions
---
All of the fruits and vegetables we deliver are grown without synthetic pesticides and are USDA certified organic. Interested in receiving produce that's both organic and locally sourced all year round? Check out our Local Dogma Box.
Similar to a CSA or farm share, our Local Dogma Box is filled with the best organic produce from local and regional farms and brought right to your door each week. It's the easiest way to eat like a locavore!