A weekly update from Boston Organics.
Next week we will receive our final harvest of the year from Atlas Farm in South Deerfield, MA. Gideon Porth, owner of Atlas Farm, is a good friend of the Boston Organics Community and we've been working closely with him for almost 10 years!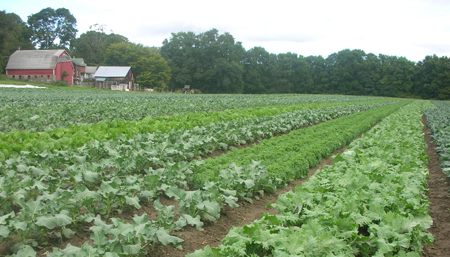 As one of our most productive organic farm partners, Atlas Farm brings us lettuce, kale, peppers, eggplants, tomatoes, squash and anything else that Gideon plants in his farm's fertile soil. Gideon will also help coordinate deliveries from neighboring organic farms in the Pioneer Valley, conserving fuel and helping smaller farms get their produce to the Boston Organics Community.
With the help of row covers and hoop houses, Atlas Farm significantly extend their growing season, but next week we'll receive one last haul of carrots and potatoes.
Whether or not you're celebrating Hanukkah, you'll want to try our Classic Potato Latke recipe. This is a family recipe, shared by our marketing associate, Eric S. Most of the boxes will have a few organic onions coming from Nature's Circle Farm and all of the other ingredients you can order on our website.
Fortunately, just as Atlas Farm's season winds down, Winter Moon Farm's season picks up! Being able to work with local growers year-round is one of the many reasons why we work so hard to build a strong network of organic farm partners.
Winter Moon Farm specializes in cold weather New England crops likes beets, radishes and turnips. Next week, we'll we have a special variety of rutabaga coming from Winter Moon Farm—the Macomber Rutabaga. Check our Local This Week page to learn more.
Many of the boxes next week will include either kale or dandelion greens. If you're new to Boston Organics, or simply unsure of what to do with these leafy greens, you can check our recipe page for some ideas. But because most of the boxes will also include a couple of d'Anjou pears, we recommend you try a Dandelion Green and Pear Salad.
This salad is extremely easy to make when you have fresh organic ingredients and the sweetness of the pears delicately balance the natural bitterness of the dandelion greens. Try it out and let us know what you think. Tag a photo of your salad with #MyBostonOrganics on Instagram or Twitter.
Enjoy your produce and have a delicious week!