2/16-2/20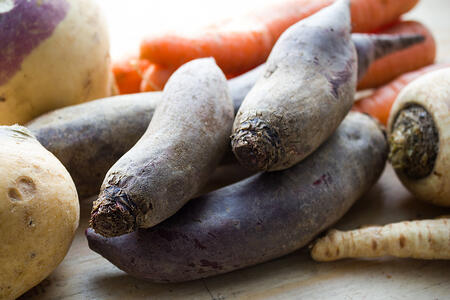 The snow keeps falling, but the organic veggies keep coming from our network of local growers throughout New England.
This week's collection of sweet root vegetables from Winter Moon Farm and Deep Root Organic Coop are complemented by the addition of crisp cabbage and crunchy Empire apples.
We also have fragrant basil from Happy Valley Organics! Grown in a solar-powered greenhouse, these fresh herbs are a welcome winter treat from central Massachusetts.
Making homemade pizza is a tasty and fun way to spend a Boston snow day. Grab a pound our new organic pizza dough and put your local organic veggies to work in this recipe for Cabbage and Sunchoke Pizzas.
If you're looking for a simpler way to use you local organic ingredients, you can create a classic Margherita Pizza with a handful of fresh-cut basil from Happy Valley Organics and Appalachian Naturals Organic Tomato Puree!
---
This Week's Local Produce
---
All of the fruits and vegetables we deliver are grown without synthetic pesticides and are USDA certified organic. Interested in receiving produce that's both organic and locally sourced all year round? Check out our Local Dogma Box.
Similar to a CSA or farm share, our Local Dogma Box is filled with the best organic produce from local and regional farms and brought right to your door each week. It's the easiest way to eat like a locavore!