3/2-3/6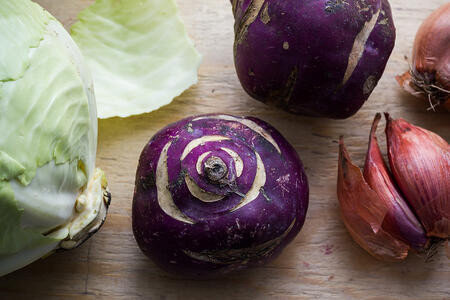 March is one of the most difficult months for Massachusetts locavores to find fresh organic fruits and vegetables. While California may already be showing early signs of spring, New England is still in the depths of winter.
Even the most prepared homesteaders are scrounging through the back shelves of their pantries to find the items they stored at the end of the last local season.
Fortunately, because Boston Organics works with a network of organic farmers, we're able to continue to fill our boxes with a smattering of local produce by getting the best items from each farm.
This week, we have a profusion of organic root veggies like parsnips, potatoes and rutabagas. We also have a medley of fresh organic herbs from central Massachusetts!
Polenta is one of the coziest dishes you can make in the wintertime.
Braised root vegetables provide an excellent topping for this baked polenta, with its deliciously crusty edges and gooey, cheesy center.
Slowly cooking your parsnips, carrots and kohlrabi helps draw out these roots' natural sweetness and creates a buttery melt-in-your-mouth texture that will have everyone asking for seconds.
---
This Week's Local Produce
---
All of the fruits and vegetables we deliver are grown without synthetic pesticides and are USDA certified organic. Interested in receiving produce that's both organic and locally sourced all year round? Check out our Local Dogma Box.
Similar to a CSA or farm share, our Local Dogma Box is filled with the best organic produce from local and regional farms and brought right to your door each week. It's the easiest way to eat like a locavore!