A weekly update from Boston Organics.

There are certain dishes that have been perfected over generations; they have stood the test of time and have come to represent not only a particular cuisine, but entire cultures and geographic regions.
One such dish is the traditional Irish cabbage and potatoes. Also known as colcannon, there are as many variations on this classic recipe as there are blades of grass on a rolling Irish hill. This week, in addition to sharing farm-fresh organic vegetables, we bring you a delicious recipe from a member of the Boston Organics Community, Caleb C.
You'll likely find a head of cabbage from Red Fire Farm, a sack of potatoes from Nature's Circle Farm and a few onions from Porter Farm in your box this week. If you're short on potatoes or onions, you can always order more here.
You can also order organic milk from Shaw Farm or if you're planning to omit the bacon, you might want to swap in a little organic half & half from Kimball Brook Farm for extra creaminess.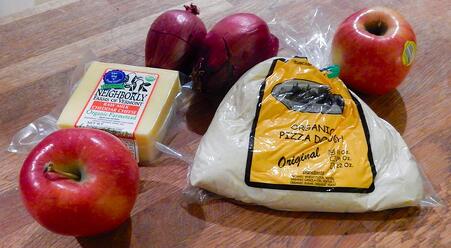 Pizza is another dish that has strong associations with its country of origin, however modern adaptations have led to an abundance of new derivations.
You're probably familiar with Hawaiian pizza or Chicago-style deep dish, but have you heard of The Vermonter? Made with all locally sourced organic ingredients, this Apple Cheddar Maple Pizza combines everything we love about the northeast.
We were just introduced to this new New England classic by our very own customer service associate, Rebecca Bilodeau.
Most of the this week's boxes already have a couple of onions from Porter Farm and an Empire apple from Dwight Miller and Son Orchard, but you might want to order some of Read Miller's special maple syrup if your supply is running low. Don't forget Neighborly Farms' Raw Milk Cheddar Cheese and a pound of frozen organic pizza dough from Massachusetts-based Tuscan Pizza Company.
Whatever you make with the contents of your box, we hope you have a delicious week. And whether you try one of our featured recipes or make something new, remember to snap a photo and tag @BostonOrganics on Instagram, Twitter or Facebook. Who knows, you just might find your recipe in our next newsletter!