3/16-3/20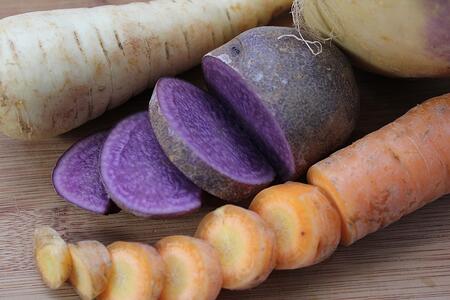 Dogma Box customers have an exciting new item in their boxes this week: Adirondack Blue potatoes from Red Fire Farm.
Unlike your common colored potatoes that look like any old russet beneath the skin, Adirondack Blues have a radiant bluish-purple flesh. This coloring indicates the presence of an antioxidant called anthocyanin, which also gives blueberries, raspberries and grapes their vivid hues.
Adirondack Blue potatoes are a hybrid variety created at Cornell University about a decade ago, but it wasn't widely planted until Penn State partnered with Utz to create potato chips that matched the university's colors.
There's no need to be alarmed by this potato's genetic history. Its lineage can be traced back to potatoes that have been grown in the Andes Mountains for over 8000 years and its organic certification verifies that it has not undergone any transgenic modification.
Adirondack Blue potatoes are celebrated for their ability to remain moist when baked, their low starch content, and most obviously for their unique coloring which has been used by adventurous chefs to create striking new dishes.
Adirondack Blue potatoes lose their coloring a little when they're boiled, so if you want to preserve its natural vibrant blue, its best to microwave or bake the little tubers.
This recipe for Potatoes Boulangere comes from celebrity chef Jamie Oliver. The concept for potatoes boulangere, however, originated in France centuries ago when people in rural areas did not own their own ovens.
Acclaimed foodie James Beard explains that "on their way to church, women would take the Sunday roast of lamb in a dish, surrounded with sliced onions and potatoes, to the baker to be cooked in his oven while the family prayed. Afterward, they picked it up and took it home for lunch, perfectly done."
Making a good potato boulangere requires a bit of preparation, slicing the potatoes thinly and spreading the ingredients evenly in the dish, but once you slide it in the oven the hardest part is having to wait patiently before digging into the crispy, cheesy top.
---
This Week's Local Produce
Empire Apples
Russet Potatoes
Cabbage
Kohlrabi
Adirondack Blue Potatoes
Onions
Parsnips
Rutabagas
Beets
Carrots
Radish Medley
---
All of the fruits and vegetables we deliver are grown without synthetic pesticides and are USDA certified organic. Interested in receiving produce that's both organic and locally sourced all year round? Check out our Local Dogma Box.
Similar to a CSA or farm share, our Local Dogma Box is filled with the best organic produce from local and regional farms and brought right to your door each week. It's the easiest way to eat like a locavore!